Spark of Passion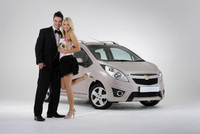 Cupid's arrow is in full-flight across the UK and love is in the air as Chevrolet reveals that the leap year tradition of women proposing is alive and well – albeit with a modern twist.

To celebrate this fun tradition, a tongue-in-cheek survey of 1,000 Britsreveals that almost a third (32%) of women would use Leap Day (February 29) as an opportunity to propose to their man.

When asked why they will be proposing, astonishingly, more than half (51%) of women aged between 25 and 44 said it's because their man will never get round to doing it, himself. While more than one in ten (12%) say they'd do it because their friends are married and they don't want to be left on the shelf.

To help make it a moment to remember, Chevrolet – maker of the Spark city car - has advice on where men want their partner to propose and how to do it.

Where to pop the 'question'

Forget taking your fella to an expensive restaurant, serving him champagne or giving him some bling: three in ten men (32%) said they would prefer to be proposed to on holiday, while approximately ten percent of Great Britain's leading men felt a proposal in the pub would be better.

Of course, not all men thought a holiday or the pub were an appropriate venue and with their creative liberties, respondents recommended some alternative locations:
Somewhere private
On a country walk
During a quiet night at home
On a sky diving trip with only one parachute
On the edge of a cliff so I could push her over it
In the bedroom (pre- or post-coitus)

"Every romance begins with a spark and the survey results reveal how modern UK couples can challenge 'the rules' this leap year in a unique and memorable way", says Mark Terry, Managing Director of Chevrolet UK. "Like a modern romance, the Chevrolet Spark breaks the mould and offers motorists a unique and stylish option."

Where love lives

Answering the age old question of what keeps the spark alive, the majority of Brits (74% of men, 67% of women) say enjoying each other's company puts the spark into a relationship. Contrary to the overall results, only 56 percent of 18-24 year olds cite enjoying each other's company as the source of the spark in their relationship.

On a regional level, the Welsh enjoy each other's company most - with 82 percent of men and 83 percent women agreeing – which might lead to some cozy nights in due to the weather.

The survey also revealed the surprising statistic: if you want to get your man's attention in the North East, follow his football team. Fifteen percent from the region would like their partner to 'pop the question' at a major sporting event.

Midlands men are more likely to say 'yes'to a proposal than anywhere else, with 55 percent saying'yes'and meaning it, with just six percent running a mile, while in Yorkshire, 11 percent quizzed reckon it's a man's job– just three percent of men in the South agree.

To land the hand of a man in Scotland, you may need to wear trainers and be on good terms with his family. One-in-five Scotsmen (21 percent) would rather run a mile than say 'yes'if their girlfriend proposed on February 29. Strong on tradition, 35 percent would insist on you asking his mum before proposing, compared to 15 percent of the total.

A nation divided?

Looking at the different 'Sparks' for romance across the UK, there are some surprising differences:
No Scots men would want to be proposed to at a major sporting event, while almost one in ten men in the North-East (8%) would want to be asked at a major football or rugby match.
Only six percent of Midlanders would run from the proposal – 55% would say yes and mean it.
More than one in ten Yorkshiremen (11%) reckon it's a man's job to propose, whereas Southern men are the most open-minded about women proposing with only 3% agreeing with the Yorkshiremen.
More than one in five Scotsmen (21%) would run a mile rather than say yes if their girlfriend proposed on 29 February.
One in ten men over the age of 55 reckon it's a man's job to propose, whereas gentlemen between the ages of 18-24 completely disagree.
Only 5 percent of respondents over the age of 55 place an emphasis on romance or flirting, while 44 percent of 18-24 year olds either a romantic gesture or flirting and teasing were more important.

"Our survey confirmed that each region and age group views relationships differently, but deep down we are true romantics at heart. Chevrolet encourages everyone to make the most of everyopportunity that presents itself with a loved one on February 29," concludes Mark Terry.