Developer bids farewell to residents and toasts new homes success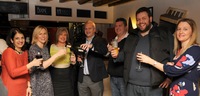 Hanging up the hard hats and closing the sales office door for the final time, Linden Homes has bid a fond farewell to residents at one of its prestigious Peterborough developments.
Customers from the popular Drover's Mead development in Castor were invited to join the company's director and senior staff for farewell drinks and nibbles at the local Fratellis restaurant.
Linden Homes managing director Chris Bond said: "Drover's Mead has been such a fantastic development for Linden Homes, giving us the chance to showcase some truly wonderful new homes designs, and in turn offer something exceptional to our customers.
"The idea of the informal evening was a chance for us to thank the residents for their support and to continue the lines of communication with them, as well as give the development the send-off it deserves!"
Mark and Lian Vile are among the many happy residents at Drover's Mead. Lian said: "We moved into our new home last summer and have been very happy with the quality of the house, and also the quality of the customer service we have received.
"The finish to our home is beautiful, and having lived in three new homes before, Linden Homes are by far the best. The customer service received from head office has been great, as well as that from the team based on site. The development is looking lovely, and Castor is a great village to live in."