The new way to keep your makeup brushes clean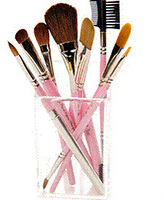 Cleaning our makeup brushes tends to be one of those tasks we simply forget about! But did you know, that if you don't clean your makeup brushes once a week they become ridden with bacteria, contributing to oily skin and bad breakouts? Not quite what we want to hear! Cleaning makeup brushes will remove bacteria, dirt and debris in addition to old makeup, oils and dead skin cells. Clean makeup brushes will promote clearer and healthier skin.
Dr Bronner's Magic Soap's are the new and perfect way to keep your brushes clean, hygienic and super soft allowing for a refined makeup finish. Aim to clean your brushes, (foundation, blusher and eyes shadow) once a week you will be able to see and feel the effects on your skin immediately.
Available in the sumptuous scents of Peppermint, Lavender, Eucalyptus, Citrus, Almond, Rose, unscented Baby Mild and Tea Tree, Dr Bronner's Magic Soaps remains unique whilst delivering quality results.
Containing no synthetic foaming agents, thickeners, preservatives, fragrances, dyes or whiteners, Dr Bronner's is the perfect natural product to clean your brushes with!
Dr Bronner's uses 100% post consumer recycled (PCR) cylinder bottles and paper labels. In 2003 every Dr Bronner's product became officially certified organic by the US Department of Agriculture and every year, they continue to give away between 30-70% of profits (after tax income) to charities working on a range of different projects and funding.
Celebrity and Magazine Makeup Artist, Jodie Hazlewood comments, "I love Dr Bronner's Soaps to clean my makeup brushes with, especially the peppermint soap which leaves them smelling clean and fresh. The easy travel size is perfect for when I'm on the run too! So many women forget to clean their makeup brushes, but it is such an important part of maintaining healthy looking skin."
Each of Dr Bronner's Magic Soaps have 18-in-1 different uses, allowing you to wash your body, hair and teeth in addition to cleaning your home, pets and even your car!
Celebrity fans of Dr Bronner's include Sandra Bullock, Gwyneth Paltrow and Drew Barrymore.
For more information, visit drbronner.com.