Gold Coast in numbers: Discover the coast with the most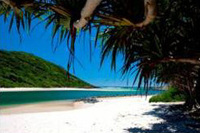 From vast stretches of spectacular coastline and world-class surfing, to subtropical rainforests and national parks, the Gold Coast is a region of extremes where the numbers speak for themselves.
5,000km2 – The land area of the Gold Coast. Gold Coast City the most biologically-diverse city in Australia, its vegetation ranges from mountain rainforest to coastal wetlands
287 – Average days of sunshine annually in the Gold Coast
100,000 – Area in hectares of nature reserves and World Heritage sites. The Gold Coast is home to the largest subtropical rainforest remnant in the world
260 – Length of walking tracks in kilometres available in the Gold Coast
323 – Species of bird for budding twitchers to spot on the Gold Coast
11 – Number of award winning wineries located on the newly created Gold Coast Food and Wine Trail. The Gold Coast is Queensland's fastest wine-growing region
72km – The length of the Gold Coast's stunning coastline
22 – Average water temperature in degrees, perfect for surfing and water sports
40 – Number of resort and championship golf courses on the Gold Coast
1 – The number of hour's drive to the Gold Coast from Brisbane
30 – Number of airlines which use the Gold Coast as a gateway to 26 destinations worldwide
2 – Number of international airports which service the region
270 – The height in metres of the SkyPoint Observation Deck on level 77 at Q1 which is Australia's highest external building walk
2018 – The year the Gold Coast is to host the Commonwealth Games
There is no time like the present to experience this diverse destination and discover a new side to Australia's Gold Coast – famous for fun!
For more information, see visitgoldcoast.com.