Six exciting new Aboriginal tourism experiences in New South Wales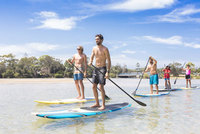 NSW's Indigenous tourism sector is experiencing phenomenal growth, with a 50 percent increase in participation rates and the opening of six exciting new Aboriginal owned and operated tourism businesses.
In the year ending September 2016, more than 394,000 international and domestic visitors participated in an Aboriginal tourism experience in NSW. This was up 50 percent on the previous year and contributed an estimated $1.14 billion to the state's economy.
According to Destination NSW CEO Sandra Chipchase, "The growth in travellers yearning to learn more about NSW's diverse Aboriginal nations and their traditional and contemporary cultural experiences is fantastic news for the Indigenous tourism sector."
"NSW is a destination where Aboriginal culture is strong, vibrant and diverse. Across Sydney and Regional NSW, new tourism operators are taking tours to new locations and sharing the story of their people, language and cultural traditions as a way to educate visitors and locals. These tours provide a chance for mutual understanding and ensure that local language, cultural sites, ceremonies and stories are passed on."
Clark Webb, who has recently started Wajaana Yaam Gumbaynggirr Adventure Tours, a social enterprise on the Coffs Coast, believes his tours share the stories and language of the Gumbaynggirr people, while also having fun stand-up paddling boarding and kayaking.
"Gumbaynggirr are Saltwater people, so it makes sense to get people out on the water. On our tours people get the chance to paddle with the direct descendants of the world's first paddlers, feel a sense of adventure in unspoilt marine park waterways, and connect, feel and taste the soul of our country," Mr Webb said.
"Wajaana Yaam Gumbaynggirr Adventure Tours is a social enterprise, where we educate visitors about the Gumbaynggirr culture and educate the local Aboriginal community so they know the stories and language of their ancestors. In this way we encourage our community to be strong in both culture and education and create employment opportunities as tour guides."
Wajaana Yaam Gumbaynggirr Adventure Tours joins another five exciting new Aboriginal tourism experiences that have recently started in NSW.
Bundyi Cultural Tours in Wagga Wagga is run by Wiradjuri man Mark Saddler who shares aspects of this culture, including the language, significant places and stories. Take a half or full day experience where you'll learn about bush tucker and how important cultural tools were made, or for more immersive experience book into one of the overnight tours. You are guaranteed to be entertained and learn about the Wiradjuri culture and its people through Dreaming stories, visiting cultural sites and learning about the Wiradjuri language and culture
Local personality Tim Ella, of the Dharawal-Yuin people, and mate Grant Hyde have recently started Kadoo Tours at Watsons Bay and La Perouse. These immersive two hour tours begin with a traditional ochre ceremony and Welcome to Country, and provides visitors with the chance to try bush tucker and learn about the traditional uses of plants and animals for food, medicine and ceremony. Tim will share his personal history and Dreaming stories as he guides you along the coastline and through native bushland
Feast on lunch of barbequed Kangaroo and Emu in the heart of Ku-Ring-Gai Chase National Park in Sydney with the newly formed Guringai Aboriginal Tours. Guringai descendant Laurie Bimson and Yuin descendant Les Mcleod run a four hour tour visiting the park's sacred sites, rock engravings and share the stories that their ancestors would have told their children a long time ago
Unkya Cultural Eco Tours offers authentic tours at Scotts Head and Gaagal Wanggan National Park on the Mid North Coast. Hear the creation story of the ocean and how the first wave was made, and learn about traditional fish traps and hunting on the Gurruuja Juun (Whale Tail) Tour which visits Little Beach and Scotts Head headland. You will also taste traditional bush tucker, participate in Gumbaynggirr ceremonies, engage in the Gumbaynggirr language and learn about native plants use as medicine
Experience the Wiradjuri and Kamilaroi/Gamilaraay country near Dubbo with traditional land owner Peter Peckham from First Lesson Cultural Tours. Hear the stories of this land and its people from a real bushman as you visit a scarred canoe tree, an axe grinding site, and discover bush tucker and medicine plants. Peter also offers overnight camping tours, for a real taste of Outback NSW.
Share your favourite Indigenous tourism experience in NSW with us on social media by using the hashtag #NewSouthWales and #ILoveNSW. For more information visit sydney.com and visitnsw.com.