5 must-visit restaurants in Sydney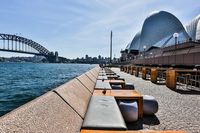 When in Sydney, whether for a holiday or a longer term, it's important to see the best that the city has to offer. That will definitely be the case if you check out these five restaurants, all of which come very highly rated by critics. While they might end up costing you a pretty penny, those who are in the know would argue that they are worth it. Don't miss out on these culinary experiences in Sydney.
Hubert
French stylings reign at Hubert, which was created by the Swillhouse group. They were already well known for bar venues such as Shady Pines and Frankie's, and have brought the same fun atmosphere to their eatery. Daniel Pepperell is the chef at the helm, and he is certainly one to watch. Wine is one of their big specialities, and the candlelit room feels very romantic. It's mid-priced, so not as expensive as you might expect – and there are plenty of other entries on our list which would cost you more. As one of the highest-rated from critics, that makes Hubert a very good bet indeed.
Automata
More on the expensive side is Automata, to be found at the Old Clare Hotel in Chippendale. The menu is very interesting, and will leave you feeling inspired by the wonderful combinations and the presentation that they are given. It's all powered by one of the most unique chefs you will find in Sydney: Clayton Wells. His food is very intriguing indeed, and you'll be joining top food critics from around the world if you take a table in his restaurant.
Momofuku Sieobo
Coincidentally the place where Clayton Wells spent a lot of time honing his craft, this restaurant is really big news in Sydney. Not that it's particularly new – it has been making waves for years, and continues to do so despite a change in head chef to Paul Carmichael. His background in Barbados brings an interesting zing to the food, and each of the dishes is curated carefully. The dego-only menu of 14 courses might put many off, but if it suits you, it's a treat – and 14 courses might just feel like a mere morsel when every dish is perfect and moreish. Situated in Darling Harbour, it might have the added bonus of being close to your hotel and to a lot of the other attractions that Sydney has to offer.
Firedoor
If you're paying attention, the name of this restaurant might tip you off to the kind of food that you can expect once you are seated. Everything on the menu is prepared over an open flame, with specific woods paired with each ingredient to create the best tastes. For example, shellfish is cooked over Applewood to give it sweetness, while mushrooms are cooked over mallee root to increase their earthiness. Salmon's richness is balanced by cooking over aromatic orange wood. There's an art to the food here which can't be denied, and this makes up for a large part of its charm.
Yellow
Much like L'Arpege in France, this beloved Sydney restaurant caused a stir by deciding to go vegetarian in 2016. They still serve a few meats at their weekend breakfasts, but other than that, it's veggo-only. There's an a la carte men which is led by sharing plates, but the tasting menu is great for those who want to try a bit of everything. You can also choose a vegan option if your diet is more limited. This is also less expensive than some of the other options on this list, which makes it even more of a great choice. It's an interesting way to go, but by focusing on vegetables, the team behind Yellow have demonstrated that they can be the most important and dominant thing on the plate – meat or no meat.
While trying any of these restaurants is sure to be a hit, you can also try discovering the latest hidden gem for yourself. Take a walk along the streets and pick out the best-looking restaurants by viewing their menus, and you're sure to find something that sounds good. Sydney is full of fantastic restaurants, and you can't fail to find one simply by walking along any street.