Insider's Guide to Brisbane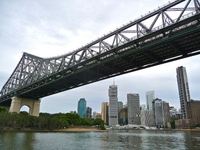 There are a lot of cities that you might want to visit in Australia, and Brisbane is rarely at the top of the list. This is a major oversight, as you are about to see! Brisbane is one of the best cities for a break, whether short or long. It has a lot of attractions for you to try – of which these are just a few, recommended by insiders.
Culture
The South Bank is definitely the place to go for culture. There are museums, parkland, public spaces, and a riverside boardwalk to explore, creating some truly exciting cultural quarters that are just so full of life. The Queensland Art Gallery and Gallery of Modern Art, known as GOMA, is one of the highlights of this scene. It not only showcases local and international creative talents, but also has an award-winning restaurant and clean-cut modern architecture. Then there's the Brisbane Powerhouse, where everyone goes for events and nights out. Comedy nights, plays, musical performances, and talks are all held here, so get your tickets online before you visit. Or you could just hang out with Aussies at the South Bank's barbecues for a bit of traditional Aussie culture.
Food and Drinks
If you are a foodie, then you will be in good company. The laneway bars are favourite haunts for most locals, and you can usually tell how good a bar is by how obscure or ridiculous its name is. Farrier, Brooklyn Standard, and Greaser Bar are some of the best underground bars in Brisbane. If you want to go for something different, head to Fortitude Valley. Here you will find something very special: the Tree House Bar at the Lost Boys organic café. The menus here are served inside vintage children's books. How often do you get reading material served alongside your plates? One of the best ways to explore here is just to head down to the South Bank or one of the other trendy districts and just see where your feet take you. There are plenty of eateries tucked away in obscure places just waiting for you to find them.
River Fun
The river is the heart of Brisbane, so you will definitely want to explore it. You can walk, run, or cycle along the banks to get a great view of daily life here, or head off to one side with the Streets Beach in South Bank for some sun-worshipping. If you want to get onto the river itself, options abound. Boat tours are always popular, or you can do some rowing of your own with an urban kayak expedition. Then, of course, there's the iconic Story Bridge. Take an adventure climb across this structure to admire the sparkling waters below. There's a little something for everyone in the river.
Where To Stay
Mary Street and George Street are right in the centre of the action, and as such, most of the upmarket hotels in the city can be found around this area. If you want to cut costs, however, you can always head a little further out. Public transport is excellent in Australia and you should find it easy to get around, no matter where you choose to stay. It's mostly down to whether you want to be stumbling home late at night from the bars and having a great time, or whether you are going to be getting back to the hotel at a sensible time and not needing to always be in walking distance of it. You can also go a little further out in the city if you want to spend some time outside of it: there are Lamington National Park, Mount Tamborine, and the whale watching boat tours to try whenever you are stuck for something to do. But with a city so vibrant, it's unlikely that you will ever be stuck for something to do!
With these insider tips you are sure to find the best of the city. But remember – for anything popular, make sure that you arrive earlier thank you think you need to, or you might miss out on a seat. This is especially true in the small but trendy boutique eateries!