Experts say Brazil property bubble will not burst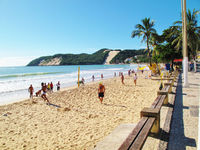 A side-effect of today's precarious global economic climate is the expectation that if a real estate market grows rapidly, at some point prices will become unsustainable and crash. Whilst the likes of Spain, Bulgaria, Dubai, Ireland and the United States have each experienced such a phenomenon, experts believe, with good reason, that Brazil will be the exception and the bubble will not burst.
Samantha Gore, Sales Manager for uv10.com comments, "Undoubtedly there have been some significant double-digit percentage price hikes in Brazilian property over recent years but, instead of crashing, the consensus is that values will take a more modest path of growth. When Reuters polled 15 banks, research groups and business associations at the end of 2011, nine said prices would rise between 5 and 10% in 2012 and one other said they'd exceed 10%. And, while most concurred that price hikes would cool as 2012 progressed, none of those surveyed believed prices would fall. Brazilians are buying homes to live in, not to speculate on, which eliminates many of the factors that caused property crashes in other parts of the world."
There are few fears surrounding Brazil's rapidly growing mortgage market either and the country is certainly not set to fall into the toxic subprime lending trap of the United States: Brazil's mortgage market is still minuscule - according to the Brazilian Association of Home Loan and Savings Banks, outstanding loans make up just 4.8% of GDP versus a figure of 95% of GDP for the US in 2010. Banks will never lend anything as high as 100% and non-residents are still excluded from securing finance in Brazil.
Since 2003, more than 30 million Brazilians have officially entered the middle class enhancing their ability to afford housing and the finance it entails. Minimum wages have risen sharply, social housing programmes such as Minha Casa Minha Vida have taken effect and unemployment is at an all-time low of 5% - compare that with 23% in Spain. Those who have historically rented are now buying and demand is so great - estimates of Brazil's property shortfall range between 5.6 and 10 million homes - that prices are naturally and reasonably moving upwards.
The economy is also holding up well and, after a brief period of contraction in 2011, the Central Bank predicts GDP growth to be 3.27% in 2012 and 4.2% in 2013. Add in colossal oil discoveries and the hosting of the 2014 FIFA World Cup and 2016 Olympics and Brazil is the exception that proves the rule amidst current economic uncertainty. Property investors would be hard pushed to find such stability and potential for growth elsewhere.
On the Market - Dunas de Cotovelo, nr Ponta Negra, Northeast Brazil
Tipped to be one of uv10's hottest investments for 2012, Dunas de Cotovelo is a best-of-both-worlds apart-hotel, of a four-star plus luxury standard. Investors can purchase a super-high spec, fully-furnished beachfront apartment with top-end hotel services and then earn rental income if they choose to place the property under the resort's hotel management, where they can enjoy net rental returns that will go up steadily year-on-year.
Just 20 minutes drive south from Natal's International Airport and ten minutes from Natal city's most famous beach and shopping area, Ponta Negra, Dunas de Cotovelo comprises 64 sea-front apartments arranged around a central swimming pool area. The resort was designed by renowned architects to sit in harmony with the surrounding white sand dunes and deep blue sea. The beach is one of the most beautiful in the region and is so quiet it has an almost private feel.
Aside from direct beach access, attractive on-site features include a fully equipped gymnasium and state-of-the-art steam room, massage and treatment area, bar and restaurant, adults and children's swimming pools, cable TV and wi-fi in the lounge areas and business centre, private off-street parking and garaging and 24 hour security and reception, where they will be happy to book everything from hire cars and dune buggy rides to fishing trips and tables at the best restaurants. Apartments benefit from lift access between floors, wi-fi access in all properties and communal areas, SKY TV and air conditioning. Most apartments enjoy panoramic swimming pool and ocean views.
Prices start from 279,000 Brazilian Reais (approx 97,401 GBP) for a 61.5m² built two en-suite bedroom apartment complete with terrace, finished and ready-to-go. Developer finance is available for up to four years at a fixed interest rate of 12% per year. Owners can benefit from hotel rental income at a rate of 25% (net) of rack rate room price (which works out at around 60% of the average nightly rental considering tour operator rates etc). Whilst contracted to Dunas de Cotovelo's hotel management programme, owners will not have to concern themselves with condo fees, utility bills, cleaning, laundry, repairs and maintenance – including replacement furniture if required – as this is all handled at the hotel's expense. The only costs payable in addition are taxes on rental income plus costs incurred during personal use of the apartment such as food, beverages (at discounted rates for owners) and utilities (water/electricity).
For more information, visit uv10.com.