14 reasons to consider Brazil as the home of your next property investment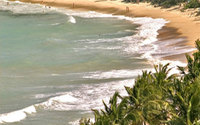 Even though Brazil's hopes of being crowned the FIFA 2014 World Cup champions are dashed after a staggering defeat by Germany in the semi-finals, the Latin American powerhouse still boasts numerous other winning qualities.
So, as the world's greatest football tournament draws to a close, leading developers Ritz Property pays homage to this year's World Cup host nation and presents 14 reasons to consider Brazil as the home of your next property investment.
1 Tourism is on the increase – and not just because of the World Cup
3.7 million visitors, including 600,000 international tourists, are expected to have descended on Brazil's 12 host cities over the course of the 2014 tournament, but the nation's healthy tourism sector doesn't begin and end there. The World Bank, recording data on international inbound tourists, showed that the Brazilian tourism market has been on a steady increase over the last three decades, with significant growth in the last few years. 2009 saw 4,802,000 tourists visiting Brazil rising to 5,677,000 by 2012, a noticeable increase of 18%.
The positive effects of travel and tourism on the Brazilian economy in 2014 are also echoed by the World Travel and Tourism Council (WTTC); in the WTTC's Travel & Tourism Economic Impact 2014 – Brazil report, the total contribution of Travel & Tourism to Brazil was BRL443.7 billion, some 9.2% of GDP in 2013. This is forecast to rise by 5.2% in 2014 and by 4.1% per annum to BRL696.6 billion by 2024.
2 Improved aviation accessibility easing travel concerns
The North East city of Natal, Brazil's popular 'City of the Sun', has welcomed the development and opening of a brand new international airport, taking the old airport capacity of 2.6 million passengers annually to 6.2 million passengers in addition to cargo.
Flights taking off from the new Greater Natal International Airport, the first private airport in Brazil located in the northern growth zone of the city, are signalling a new era for the city with both the Mayor of Natal and the Governor of the State of Rio Grande do Norte, in which Natal lies, actively in discussions with airlines from southern Europe, the Middle East and USA regards expanding direct routes to the city.
3 Employment levels are on the up
The World Cup gave an obvious boost to Brazil's construction industry, with the building of new stadia, renovations to existing venues and improvements made to the country's infrastructure. One million jobs have been said to be generated by the World Cup overall, according to a report issued by economic research institution Fipe on behalf of Brazil's tourism ministry, yet this increase also forms part of a wider, longer term uplift in the Brazilian job market.
The IBGE (Instituto Brasileiro de Geografia e Estatística) has reported that whilst the average unemployment rate in Brazil from 2001 to 2014 was 8.65%, this figure has fallen from 5% in March 2014 to an encouraging 4.9% as of April.
4 A country of natural wonders
From breathtakingly unspoiled beaches of white sands and azure waters in the North East, to the magnificent Iguaçu Falls and the mighty Amazon jungle, representing over half of the world's remaining rainforest with unparalleled biodiversity, Brazil is a treasure-trove of natural wonders which draws visitors year-in year-out.
Brazil is also famous for the samba rhythms that beat at its heart and the accompanying carnival, bright with colours and eye-popping attire, alive with excitement and energy, the largest taking place each year in Rio de Janeiro in February / March.
5 An unbeatable climate
The climate of this expansive South American country varies, rather widely, from region to region but is characterised overall by a tropical climate of often high temperatures and long days of sunshine. Perfect for attracting tourists year round.
Over 60% of Brazil's population live in locations tempered by sea winds, altitude or polar fronts, making coastal regions popular for visitors and locals alike, and in turn investment.
6 Economic buoyancy
The economic report released by Fipe and commissioned by Brazil's tourism ministry, claimed that the 2014 World Cup will add 30 billion reals or $13.4 billion to the country's economy, with Vicente Neto, Head of Embratur, Brazil's official tourism promotion agency, stating, "It is an extraordinary human legacy".
In a wider sense, Brazil's economy is reaping the rewards of a successful tourism industry, in the long term as well as immediately. The WTTC Travel & Tourism Economic Impact Report for Brazil is anticipating a rise of 3% in the direct contribution of Travel and Tourism to Brazil's economy in 2014, and predicting an even greater average annual increase of 3.9% in the coming decade to 2024.
7 Stable currency
This month Brazil celebrates 20 years of the introduction of the real. This inflation busting currency marked a true watershed moment in Brazil's economic history and played an important role in poverty reduction according to many.
Whilst hyperinflation is no longer an issue, President Dilma Rouseff and her Party are working towards the Central Bank's inflation target of 4.5% (current levels are 6%) and investors can invest with confidence in a far more stable economy.
8 The doors are open to foreign direct investment
Some countries are easier than others for foreign investors to enter but Brazil has for some years recognised the importance of foreign direct investment (FDI) to the economic future of the nation. The latest data from the ECLAC report reveals that FDI into Latin America reached $185 billion in 2013 continuing the upward trend seen in the last 3 years.
Brazil retained its number one position accounting for over one third, $64 billion, of all regional FDI. Indeed the UKTI has pledged, as part of British Chancellor's next Budget, a further £2 million a year to increase its presence in Latin America to mirror the successful expansion strategy it has pursued in China. And at a regional level, Carlos Eduardo Nunes Alves, the Mayor of Natal, at a private meeting with Ritz Property only last month, stated that FDI is "extremely important" and that the city "has vast potential to grow and treasures investments from partner companies in Natal".
9 A rising middle class
Indeed the progressive attitudes of the Brazilian nation filter down from the very top to ordinary people. The middle classes have seen vast expansion with data from Savills revealing growth of 40 million people from 2005 to 2011, with Cetelem BGN and Ipsos Social Research Institute showing that 34% of the population were classified middle class in 2004, a figure that had leapt to 54% by 2011.
This goes hand in hand with a poverty reduction programme that has resulted in a rise of 9% in average Brazilian incomes in the decade to 2012. These figures not only provide added reassurance for a growing economy but also indicate a growing consumer market with greater demands for housing, spelling good news for property investors.
10 An emerging property market with real potential
Increased individual wealth, access to mortgage finance and declining interest rates have been massive triggers in the boom of Brazil's property market in recent years. Whilst there may be some concerns that the top of the market may have been reached in certain super-prime districts of Rio de Janeiro or Sao Paulo, Brazil is a vast country covering some 8,500,000 km2 and opportunities still abound elsewhere.
Nationally the market is stable with Brazil's composite FIPEZAP house price index rising by 12.7% during 2013 from a year earlier and by 3.5% in Q4 2013 from the previous quarter according to the Global Property Guide. Regionally the North East city of Natal and its 800,000 and growing population is tipped as a property investment hot spot due to the high demand for quality accommodation, affordable entry points (from R$411,488 / £111,000 for a 2 bedroom western style apartment at Ritz Property's Costa Azul development) and capital appreciation levels forecast to be strong.
11 A healthy rental market
There is no doubt that the presence of the World Cup has had a positive impact on the rental markets of the 12 host cities. Local real estate agents in Rio de Janeiro for example are reported to have rented out luxury residences for hundreds of thousands of dollars with the average rental cost in the city rising by 144% in the last 5 years driven by this year's sporting event and the 2016 Olympic Games.
Savills recently claimed that Brazil's property market, unlike many other emerging economies growing at a fast pace, does not look overheated, meaning that there is still room for growth and, in turn, investment opportunity. The buy-to-let market is on the up, with figures for Rio de Janeiro recognising an increase of 5.1% in residential yields and 8.5% in commercial yields (according to Savills' '12 Cities Real Estate Costs of Living and Working Around the World' report).
12 Impressive hotel occupancy rates provide opportunity
Looking to another accommodation sector, high occupancy rates for key hotels during the World Cup were to be expected, but Vicente Neto from Embratur revealed that the 'World Cup effect' was greater than anticipated for the 12 host cities. Hotel occupancy rates were 45% higher than expected, a rate in line with travel website Trivago.co.uk which revealed that searches for Brazilian hotels during the tournament were up an incredible 387%.
Interestingly, while hotel searches by UK travellers related to the football were up by 344%, they were still up an impressive 19% this year in general terms. This increased interest in hotel stays in Brazil offers opportunities for those looking to capitalise on this lucrative asset class by buying into a hotel project such as the new Mercure Natal or soon to be refurbished Piramide Hotel both located in prime Natal sites and available from Ritz Property.
13 Growth in demand for branded hotels
Having a brand name associated with a hotel always offers added reassurance for guests and investor's alike but in Brazil, this is even more apparent.Lauro Ferroni, VP of research for Jones Lang LaSalle Hotels, explains that this is because they are simply fewer,
"In the U.S., there is one brand-affiliated hotel room for every 100 residents. In Brazil, the ratio offers a stark difference, with one branded hotel room for every 2,800 residents. This highlights just how much room there is for the establishment of branded hotel supply in Brazil."
Natal's hotel market is already bigger than other cities within the North East such as Recife or Fortaleza with some 27,000 at present and more in the pipeline, such as the Mercure Natal from Ritz Property. Indeed the imminent presence of one of the world's largest hotel chains in Natal is also most welcome by the Mayor of Natal, Carlos Eduardo Nunes Alves.
14 The future is bright as Rio de Janeiro to host 2016 Summer Olympics
One of the key features of the FIFA World Cup, as expressed exclusively to Ritz Property by both the Mayor of Natal and the Governor of Rio Grande do Norte, Rosalba Ciarlini, is legacy. Ensuring that Brazil capitalises on its achievements for this sporting tournament for future benefit is a priority.
Looking ahead, the future is bright for Brazil as Rio de Janeiro, currently the only city to be designated as a World Heritage Site owing to its 'Cultural Landscape', has been chosen as host of the 2016 Summer Olympic Games.
Like with the World Cup, spending on facilities and infrastructure is set to be impressive with an estimated R$1 billion expected to be spent in the city owing to the Games, alongside around R$30 billion injected into the Brazilian economy overall (according to FIPE).
For more information about investing in Brazil and the opportunities available from Ritz Property, visit ritzproperty.com.