Olympic torch to ignite a bright future for Natal's property market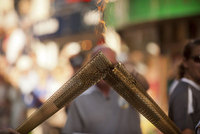 With less than a year to go until the Olympic Games 2016 in Rio de Janiero, the first summer games to be held in South America, it has been revealed that the Olympic torch route will take in the city of Natal in Rio Grande do Norte, in the north-east of the country.
Having been firmly placed on the international stage due to its hosting of four matches as part of last year's FIFA World Cup, Natal's important role in the Olympic torch relay will solidify its place in the world's consciousness.
Luiz Fernandes, CEO of award-winning developer Ritz-G5, whose projects are focused in Natal, explains how this is impacting on the property market regionally,
"During the 2014 FIFA World Cup we certainly noticed a marked growth in the number of visitors to Natal, our home city. As one of the host cities for the matches, Natal was extremely busy with many foreign and domestic tourists alike watching the thrilling games as well as enjoying all the attractions on offer.
"We are very pleased with how encouraging the increase in foreign arrivals has been since then too, a very positive impact of the major sporting event, and this has also resulted in a rise in the number of enquiries we have seen for Natal real estate. We are certainly excited about the upcoming 2016 Summer Olympics and the Olympic flame coming to Natal will encourage an even further expansion of our tourist and property markets. All eyes will again be on Natal and we hope to continue to build on this interest."
Starting in May 2016 in Brasilia, this iconic spectacle will see the Olympic torch traverse around 300 cities and towns across 26 states Brazilian states, covering 12,430 miles by road and 10,000 miles by air throughout northern and mid-western reaches. Approximately 12,000 specially-selected torchbearers will have the honour of each carrying the torch for 300 metres, historic moments for both the individuals and the city they represent.
The flame's epic journey will culminate in its arrival at Rio de Janiero's famous Maracana stadium on 5thAugust 2016, ready for the opening ceremony.
The 2016 Olympic torch relay is expected to reach a staggering 90% of Brazil's population, bringing honour and pride to the entire nation. Indeed, officials believe that the Summer Olympic Games is a golden opportunity not just for Rio de Janeiro but for the whole country to promote itself as a tourist destination, as Fernandes attests.
In line with this, Brazil's President Rouseff has warmly invited tourists who attended the 2014 FIFA World Cup to return to Rio for the 2016 Olympics. Host nation Brazil was visited by a record breaking, 6.4 million foreign tourists, according to the Brazilian Ministry of Tourism, with statistics showing that the number of foreign tourists grew by 10.6% in comparison to 2013. During the summer months when the World Cup was held, almost three times the usual number of tourists entered Brazil.
In line with this, Brazil's government anticipates welcoming more than half a million foreign tourists throughout the duration of the 2016 Olympic Games and are currently working on initiatives to enable easier access, such as suspending the mandatory visa requirements. This should enhance the opportunity to open up the Brazilian market to other countries, positive for the tourist market and in turn the country's property market too.
As greater numbers look to Brazil's Natal for property, Ritz-G5's Costa Azul is one such project witnessing a growth in interest. This contemporary and luxurious 168-apartment development is situated in Petrópolis, one of the most exclusive and exciting districts in Natal, and is close to some of the country's best beaches.
Costa Azul's prime hilltop position compliments its bold design statement, and residents can enjoy captivating beach and Ocean views, as well as excellent commuter links. Two and three bedroom luxury apartments are all fitted with contemporary décor and stylish appliances. A bar, pool, gymnasium and spa complete the luxurious experience and provide Costa Azul residents with a private retreat.
Prices start from R$411,488 / £80,700.
For more information on Brazil's tourism and the 2016 Olympic Games in Rio de Janeiro, visit www.ritz-g5.com.