Brazilians embrace timeshare creating new investor opportunity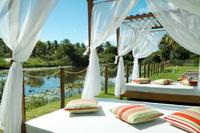 Timeshare was first introduced to Brazil around 20 years ago; it wasn't hugely popular and didn't take off. However since 2003, Brazil's middle class has expanded by 40 million people and the timeshare market has gained new impetus. Associated property investment is now big news.
Samantha Gore, Sales Manager for uv10.com, says, "We're working on a project in northeast Brazil which is managed in conjunction with RCI, the largest timeshare vacation network in the world. Clients can buy a completed three bedroom home, with title deed, and then enjoy 16% return per year from day one, enjoying the bounty of timeshare package sales to Brazilians. The returns are so large as timeshare really is booming business in Brazil. RCI reported 402% growth in timeshare sales in Brazil between 2005 and 2010. Last year RCI closed 25,000 timeshare deals in Brazil, five years previously that figure stood at only 1,500. It's a huge opportunity."
"Another factor leading to such substantial returns is that global occupancy rates are far higher in timeshare than in the worldwide hotel industry - an impressive 76%," continues Samantha, "Research done by the American Resort Development Association in 2012 found that 81% of timeshare owners across the globe had holidayed in the last 12 months. In fact they're almost twice as likely as non-owners to have done so. Timeshare resorts get used and the rewards are there to be reaped – 16% per annum in our case, as well as a guaranteed buy-back so you don't need to think about exit strategies."
All evidence points to the fact that the timeshare industry will continue to grow in Brazil. Whilst, also according to the American Resort Development Association (ARDA), North America accounts for 46% of the total timeshare market, with Europe behind at 25%, future generations of timeshare owners are expected to come from a variety of countries with emphasis on Brazil Russia India and China. Brazil currently takes only 1.6% of the market, but with a heavy representation of the global population, a growing middle class, a positive attitude toward timeshare and consideration that they may own timeshare in the future, the industry is certainly expected to burgeon.
Samantha finishes, "Let's be clear, we are not asking our clients to purchase timeshare, we are suggesting they purchase a completed three bedroom home on an upmarket resort in northeast Brazil. This home will then be managed and maintained in association with RCI and, as part of the RCI network, deliver high annual returns from day one. With the guaranteed buy back and great pay-out upon exit, the proposition is simple and secure with no hassle and no delays."
The 'International Residence Club' is a luxurious facilities-led beach and riverside village set in Pium, a ten minute coastal drive from Natal's famous Ponta Negra and just a couple of minutes by car to Cotovelo Beach. The resort is made up of 30 three bedroom 100m² villas with private gardens alongside tennis and volleyball courts, a football pitch, two swimming pools, a kayaking and fishing area, gymnasium and Japanese Zen-style Spa. The community is gated with 24-hour patrolled security alongside a concierge and butler service for guests. Wi-fi and a SKY TV package are also on hand. The resort is fully operational and welcomed its first guests in July last year.
uv10.com is offering furnished three bedroom villas for just 350,000 Brazilian Reals (approx 101,300 GBP) with immediate title deed, a title deed that they will hold on to for security until they exit the investment and the unit is sold back. Contractually investors are paid 8% per year, at the end of every year, during the term of investment. The property can be held for a fixed term of between four and 12 years. When the investment is cashed-in, International Residence Club pays back the price paid for the property (350,000 Brazilian Reals) plus a further 8% per year for every year the client has been invested – that's 16% return per year with a guaranteed buy-back. Stay invested for the full 12 years and that total payout would be 1,022,000 Brazilian Reals (approx 295,837 GBP) which is almost three times initial investment.
For more information, visit uv10.com.