Buyers spend summer in Brazil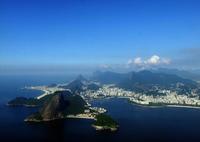 Buyers are spending the summer in Brazil, according to TheMoveChannel.com's Investment Watch. The South American country dominated investor demand in July 2013, accounting for four out of the 10 most popular listings on the property portal.

A solar energy opportunity received the most enquiries on the site, only the third time an alternative investment has managed this, but while annual returns of 13.56 per cent were a bright spot for investors, the sun was shining firmly on South America.
Indeed, Brazil accounted for almost one-third of enquiries in the Investment Watch Top 10 last month. The country's appeal spanned a range of opportunities, from coconut plantations and farming investments to residential properties. A five star resort in Rio de Janeiro received the fourth highest number of enquiries in July, with lakeside and mountainside plots for off-plan villas starting from £41,741. Alternative investments made up the remaining three Brazilian listings, as penny-pinching investors remained keen on high yield products with low entry costs.
The second spot in the chart went to Portugal, where a Madeira property scheme allowed investment in another land development for only £5,000. Promising returns of up to 128 per cent, the strength of the income only encouraged buyers to head back to the beaches as they become more confident in the Portuguese market.
The reliability of the UK's recovering economy was also a safe option for cautious investors, with a care home and student accommodation listing both proving popular. Their comparatively high prices, though, of £64,495 and £55,000 left them relegated to eighth and 10th place in the Investment Watch chart respectively: the cheapest listings, conversely, occupied the top spots.
Three of Brazil's four listings were priced at under £42,000, but affordability only played a part in the country's appeal: the strong economy and upcoming 2014 FIFA World Cup and 2016 Olympic Games have continued to boost Brazil's international profile for tourists and investors, helped even further by rising prices and strong demand.

Director Dan Johnson comments: "Brazil remains really good value for investors thanks to affordable pricing and strong future potential. As well as good financial sense, though, the South American market has a wide lifestyle appeal thanks to Rio Grande do Norte's beaches and Rio de Janeiro's lively culture.
"Alternative investments are becoming an increasingly common part of investors' portfolios, but the diversity offered by Brazil is what sets it apart from the other countries: while student housing is enough to attract buyers to the UK or a land development to draw purchasers to Portugal, Brazil regularly attracts enquiries for both investment opportunities and residential properties. This range is what has made Brazil consistently one of the most popular destinations on TheMoveChannel.com. In the coming years, buyers will be spending more than just the summer there."