Go nuts for Brazil! Natal voted top beach in South America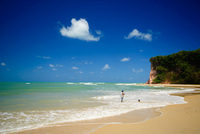 Synonymous with bronzed bodies and itsy bitsy teenie weenie bikinis, Brazil undoubtedly has some of the finest beaches in the world with Natal, positioned on the nation's north eastern Atlantic coast voted as one of the best beach locations in South America according to the 2012 Traveler's Choice Awards, compiled by travel review site TripAdvisor.
Taking second spot in the Top 10 Beach Destinations category, Natal beach offer travelers a rustic natural beauty that characterizes the Rio Grande do Norte coastline, boasting sand dunes, cliffs, reefs and plenty of wind - great for Kitesurfing, the sport of choice in Natal.
Dean Thomas, MD of DLT property, developers of Palm Springs Natal, the unrivalled land investment opportunity just 25 minutes from Natal, comments, "Natal is a great place for travelers to explore. Known as the 'Sunshine City' for its 300 days of glorious sunny weather, Natal affords a stunning coastal landscape and a booming economic climate. It's hardly surprising that Natal has become a popular second home destination both for Brazilians and international visitors. For investors seeking stability and progressive growth coupled with endless access to scenic beauty and dazzling beaches, Natal is the ideal destination."
Thomas continues, "Brazil as an investment destination presents one of the most exciting opportunities available today with our latest unrivalled investment opportunity Palm Springs Natal affording everything you could want and more. Located next to Muriu beach, one of the most visited beaches in Natal for its vast grove of coconut palms and abundance of small boats sat in the gentle waves, we at Palm Springs have a picturesque land plot just 80 metres from the beauty of Muriu beach available for investors to enjoy."
Having spent four years ensuring that all land ownership and use legalities are in place including condominium status and installing essential infrastructure such as water supplies and sewerage, as well as already selling 20% of the land plots to Brazilian nationals, Palm Springs Natal is designed with the end user, the Brazilian in mind.
From traditional ostrich farmland to 453 fully serviced freehold land plots set over 100 acres of beachfront real estate 20km from Natal international airport there are a variety of investment options available from as little as £10,000.
For more information on Palm Springs Natal a safe, secure and credible way to capitalize on the booming Brazil market, visit palmspringsnatal.com.