Explore the Hinterland and Pacific Food and Wine Trails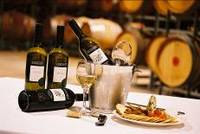 The multicultural nature of the Gold Coast has brought about a deliciously successful food and wine industry, cultivating the freshest seafood to locally bred Australian beef, award-winning boutique wines and a variety of tropical fruits. To showcase these gastronomic offerings the Gold Coast City Council devised two food and wine trails: Hinterland and Pacific featuring award winning wineries and numerous epicurean stopovers on each trail.
With over 500 cafes and restaurants, attracting prominent restaurateurs and operators from the southern capitals and around the world has ensured locations such as Main Beach, Surfers Paradise, Broadbeach, Coolangatta and the Hinterland remain highly regarded for their delectable choice of dining options.
The Gold Coast is also Queensland's fastest wine-growing region the city's burgeoning wine industry is full of Australian history, the old-world traditions of Europe and the art of wine making experience as passed down through generations.
The Hinterland Food and Wine Trail follows a scenic inland route, while the Pacific Food and Wine Trail runs from Yatala in the north of the city to Murwillumbah, across the border into New South Wales. The Hinterland Trail features 14 stops including Mt Tamborine Brewery, Witches Chase Cheese Company and O'Reilly's Canungra Valley Vineyards. While the Pacific Trail includes twelve stops from the Burleigh Brewing Company to the Sirromet Winery to the Madura Tea Estates.
Susie Douglas, Chair of Gold Coast City Council's Economic Development and Tourism Committee, said the quality and diversity of cuisine on the Gold Coast would impress any discerning gastronome. "The council has been actively supporting the hospitality industry and helping to nurture and develop local food producers," said Douglas. "One of Council's initiatives is the Hinterland and Pacific Food and Wine Trails, where visitors can explore for themselves the city's diverse range of food and beverage producers."
Born from rich soils, an annual 300 days of sunshine and the unrelenting passion of some of Australia's finest chefs and wine makers, the Gold Coast delivers modern and iconic flavours just waiting to be discovered.
A map of the Hinterland Food and Wine Trail can be downloaded at:
goldcoast.qld.gov.au/foodwinetrails/hinterland.html
A map of the Pacific Food and Wine Trail can be downloaded at:
goldcoast.qld.gov.au/foodwinetrails/pacific.html