Toni Warne returned to holiday park for surprise performance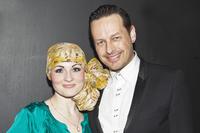 Singing sensation, Toni Warne, from the new BBC1 talent show, 'The Voice' recently treated holiday makers at Vauxhall Holiday Park in Great Yarmouth to a surprise performance.
The five star family park managed to secure a special show from alopecia sufferer Toni Warne, as the Gorleston mum is a long time friend of the park, and previously performed as part of the entertainment team.
Neil Dunnell, Entertainment Team Manager at Vauxhall Holiday Park commented, "We were delighted that Toni was able to come back and see us over the Easter break. It was a very last minute booking due to her busy schedule, though it was a brilliant evening and surprise for everyone at the park.
"Many recognised Toni from her time at Vauxhall, before she wowed the judges on 'The Voice' TV Show, so it was a great to opportunity for them to show their support.
"Toni's fantastic strong voice and distinctive soul style is a hit with everyone here, and all the staff and team wish her all the best for the competition and the future".
Singer and songwriter, Jessie J is now coaching Toni, and you can keep up to date with her progress on the Saturday night TV show.
For more information about Vauxhall Holiday Park please visit vauxhall-holiday-park.co.uk.