Try before you buy in Italy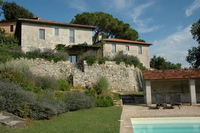 Most prospective buyers would want to road-test an area before purchasing a property, but rarely if ever would have the opportunity to try out the property itself. So it is not surprising that Ultissimo's novel 'try before you buy' service has attracted attention from prospective purchasers. This is available at a limited number of properties at their Rancale and San Vittorino developments.
Following the positive feedback on the service, Ultissimo has again this year offered prospective purchasers the chance to stay at their award-winning Umbrian developments, Rancale and San Vittorino, before they make their decision. Furnished to very comfortable standards, these historic properties are available at a weekly or nightly rate which is fully refunded if the property is then purchased by the individuals.
Paul Belcher, Ultissimo's Managing Director, believes: "When you buy a car you would insist on a test drive. So why not 'test live' your potential new home? It's important for prospective owners to have the opportunity to feel the quality and style of an Ultissimo property, to talk to other owners and find out exactly what it is like to buy through Ultissimo. Openness and trust is central to our business. We have just eight properties in each development and creating a positive community ensures that owners will enjoy time spent at their home in Italy. It's wonderful to be able to vet your neighbours in advance!"
Ultissimo provides a full welcome pack and local orientation for those not already familiar with the area, and there is assistance on hand if there are any questions. During the stay, the Ultissimo team are available to show the available properties at both developments.
For more information, visit ultissimo.com.