Le Marche outpaces Tuscany as emerging holiday hotspot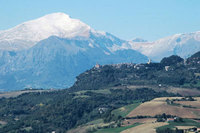 The latest figures from I.Stat, the Italian National Tourist Board, reveal that the previously undiscovered region of Le Marche is now outshining Tuscany in tourism growth.
Tuscany, famed since the 90s as one of the world's top tourist destinations, registered an increase of 4.6% in foreign arrivals from 2012 to 2013, whilst the far more unknown neighbouring region of Le Marche saw impressive growth of 6.3% year-on-year.
With 389,313 visitors now arriving on Marche soil, more and more people are beginning to recognise that this Italian location has all the benefits of close-by Tuscany, seemingly endless rolling hills, beautiful open spaces and ancient hilltop towns, yet without the hefty pricetag.
A brighter spotlight now being shone on Le Marche as increasing numbers of people learn of its charms: friendly locals on hand to help each other out or savour a delicious three course lunch, longer for formal occasions, with family and friends gathered close. Surrounded by stunning countryside, enveloped by the warm sunshine as joyous gazes fall on ancient architecture and well-worn stones that tell stories of the true Italy of old, reassuring and beautiful; enlightening and eye-opening.
The Marche region is the true microcosm of 'la dolce vita', with much to offer to locals and tourists alike and yet somewhat undiscovered, meaning its hidden charms remain protected, its treasures left unexposed and still to be revealed – an exciting prospect for visitors looking to discover the real 'Italia', as growing numbers of visitors are realising.
Dawn Cavanagh-Hobbs, Founder of property company Appassionata, based in Le Marche, explains that they have also noticed an increased interest in the region in recent years,
"When my family and I took the leap to move to Italy seven years ago, we settled on the Marche region for many reasons and the fact that it is very much undiscovered compared to somewhere like Tuscany was certainly a big draw. Over the last few years we have definitely noticed that more people are looking to this beautiful corner of Italy for an escape from the rat-race, with many interested in having the base of a managed holiday property to return to.
"What I loved about Le Marche back then is what I still love about Le Marche today: its beautiful, untouched countryside, the traditional feel of the ancient hilltop towns, the warm climate, and the fact that it seemed to welcome us with open arms, valuing, as we do, family and a sense of community above all else. Le Marche was then, and remains today, a magical place and one I know that anyone visiting will lose their heart to, it is impossible not to."
And as Dawn references, although increasingly compared to popular Umbria and Tuscany, Marche has far more untapped potential. Property prices, for example, are dramatically more affordable than in other more well-known tourist regions, with Magic Marche claiming that properties are around 35% cheaper than in Tuscany.
Combine this with the low cost of living of Italy compared to many other top holiday destinations, such as France where groceries are almost 14% more expensive and the Consumer Price Index (a general cost of living indicator taking into consideration consumer goods prices such as restaurants, transportation and utilities) reveals France to be almost 6% more expensive (according to the Numbeo Cost of Living Index 2015 report), it is clear to see why Italy is gaining increasing interest overall and why, in turn, attractive and affordable regions like Le Marche are even more so.
In line with this affordability, the recent devaluation of the Euro against the Pound means that British visitors will get even more for their money when holidaying in Italy this year, with the European Tourism Association revealing that holidays across the Eurozone should be around 18% cheaper for UK travellers due to the 8-year Euro low, indicating that the country is likely to see a boost to their tourism coffers that in 2013 stood at an impressive $44 billion, according to the United Nations Tourism Organization (UNWTO).
With I.Stat showing that tourists from over 50 countries visited Le Marche in 2013, it is clear that it is a region to watch as 2015 continues to evolve, and with an increase in UK arrivals from 2011 to 2013 of 1.5%, it is certain that there is still much further to go for this still somewhat undiscovered region of hidden charms. Jane Smith from Magic Marche concurs,
"Le Marche is Italy all wrapped up in one place… Overall the market in Le Marche has really started to motor again. Every property sector is attracting attention, viewers and buyers – we have not seen such all-round interest since 2008." It is an exciting time.
One such property that is gaining interest is Casa Tre Archi from Appassionata, a beautiful townhouse in Le Marche's hilltop town of Petritoli. Built into the medieval town walls, which are beautifully made a feature of as part of the design of the property, Casa Tre Archi also boasts three bedrooms and an expansive roof terrace with stunning views of the surrounding countryside.
Traditional, yet luxurious, this restored property incorporates wonderful original features whilst providing a comfortable and beautiful setting in which to relax and live the Italian dream. Close to award-winning local restaurants and a short drive from beautiful sandy beaches, and with just five or six non-Italian families living in Petritoli full-time, including Appassionata owners Dawn Cavanagh-Hobbs and her husband Michael, this really is a slice of true Italy at its finest.
Casa Tre Archi is offered on a fractional basis, with a share of 1/10th of the property priced at £65,000, providing five weeks' exclusive use annually.
For more information, visit appassionata.com.