Rise in Italian tourism sees Tuscany continue to shine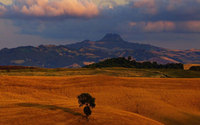 The European Commission has recently forecasted Italy's economic growth at 0.6% for this year, increasing further in 2016 to 1.4%. This positive progression has been prompted mostly by external demand and investment, with foreign tourism becoming a key element within Italy's phoenix-like economic rise.
The Travel and Tourism Competitiveness Index 2015, constructed by the World Economic Forum (WEF), highlights the significance of Italy's growing tourism industry, jumping to 8th position having only been ranked 26th in 2013. The report places Italy amongst the best in the world on digital demand for Culture and Entertainment, as well as Natural Tourism, ranking 6th and 2nd for each respectively. With a vast array of landscapes, from stunning golden coastlines and iconic sweeping countryside to the snow-kissed mountains of the Dolomite range, Italy abounds with natural splendour, with the undisputable heart of this beauty the region of Tuscany.
Tuscany is blessed with an abundance of both unparalleled culture and celebrated landscapes and continues to be a favourite destination amongst tourists from all over the world. The region is immediately recognisable to foreign visitors by its scenery of picturesque rolling hills and charming ancient towns, becoming emblematic for the global perception of Italy.
Yet, whilst the traditional Tuscan scenery is renowned worldwide, set in the deep south of the region is the wild landscape of Maremma, a landscape at complete juxtaposition with the straight rows upon rows of endless vines and steadfastly straight cypress trees commonly thought of as Tuscany. A more hidden, untamed area of Tuscany, the Maremma offers truly natural authenticity and allows visitors to embrace a lifestyle based on respect for the surrounding nature.
Terre Gialle Residence & Resort is situated on the slopes of Mount Amiata in Maremma, and Marketing Manager Simone Rossi explains how its nature-furnished location has sparked a wealth of interest,
"We have definitely noticed an increase of enquiries related to the natural charm of Tuscany when speaking to potential buyers, with specific interest in relation to the area and what Mount Amiata has to offer, something that just cannot be found elsewhere. Our estate overlooks some of Tuscany's most pristine countryside, and with a majority of it still waiting to be discovered, the wild Maremma has the potential to provide visitors with the sought after familiarity of beautiful Tuscany, combined with a more exclusive and diverse natural setting."
This vastly undiscovered area is dominated by the outline of Mount Amiata, Italy's second highest volcano, and is home to a diverse group of flora and fauna throughout the seasons. With Italy's natural tourism becoming progressively more prevalent, landscapes like the Maremma are being exposed with less well known regions starting to be explored.
According to The World Travel and Tourism Council (WTTC), Italy generated €34.8bn in visitor exports in 2014, with this figure expected to grow by 2.5% this year. With 49,697,000 international tourists predicted to arrive in Italy this year, it would seem that this trend in foreign spending is only going to continue, with not only the most popular destinations attracting revenue but also more of the country's unfamiliar locations, like the Tuscan Maremma.
The Residence at the heart of the beautiful Terre Gialle Residence & Resort estate has origins dating back to the 18th century, ensuring that the apartments housed therein are unique and full of traditional charm whilst having been restored to high modern standards.
Featuring wood-beamed or vaulted terracotta ceilings, stone walls and handmade furniture, the studio, 1 and 2 bedroom apartments available on a full ownership basis, reflect the original character of the building, with prices ranging from €93,500 to €176,000. Alongside this, the Resort offers a range of modern 1 and 2 bedroom apartments and 3 bedroom villas available on a shared ownership basis, where 1/12th fractions, start from €28,000 (excluding maintenance costs), providing four weeks usage a year.
Terre Gialle Residence & Resort exudes a unique elegant atmosphere with high quality services, a swimming pool with whirlpool, a well-kept park with nature trails and sports facilities, a tennis court and bowling green. As well as an array of extensive onsite facilities, the ancient town of Castel del Piano is only a five minute drive away or a ten minute walk, offering cobbled streets, wondrous architecture, local cuisine and friendly residents.
For more information about Terre Gialle Residence & Resort, visit terregialle.com.