Sea and ski - why Italy is the perfect destination this winter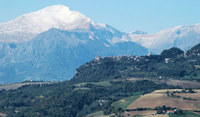 Travellers looking to escape the grey skies of the UK this winter are currently eyeing up southern Europe and, as ever, Italy is one of the top destinations for those looking for some winter sun.
"Italy is incredibly popular as a winter holiday destination," comments Dawn Cavanagh-Hobbs, founder of fractional ownership company Appassionata, who moved to Italy with her family in 2004. "Here in Le Marche there is so much to do during the winter months. The coastline offers some stunning scenery and extends for over 100 miles, making it perfect for walking, hiking and cycling holidays.
"The slopes of the Sibillini Mountains are also extremely popular, with everyone from amateurs to wannabe pros donning their snow boots and grabbing their skis or snowboards. We find that, for many of our owners, the combination of sea and ski provides the ultimate winter holiday experience."
The owners Dawn refers to are those who have purchased shares in Appassionata's luxury fractional ownership properties, which include stunning rural houses such as Casa Leopardi, complete with a roaring fire that is perfect for snuggling in front of with a book and a glass of wine from grapes grown on the estate as twilight falls on a winter evening.
Appassionata's latest fractional ownership property – the three bedrooms, three bathroom Casa Tre Archi – is ideal for those looking to head south for some winter sunshine. The spacious property boasts outdoor space on three levels, allowing owners to maximise their time in the sun. In the medieval hilltop town of Petritoli, the townhouse is perfectly located for local shops and restaurants while also providing easy access to the Sibillini Mountains and the coastal town of Pedaso, which is famous for its fabulous seafood restaurants, large fish market and some of the best mussels in Italy. A one tenth fraction in Casa Tre Archi, which entitles the owner to five weeks' exclusive use per year, costs from £65,000. Just one share remains available at this special offer price.
Overall, Italy attracted 47.7 million visitors in 2013, according to the World Tourism Organization. While big cities such as Rome and Milan and well-known areas such as Tuscany attracted their fair share of tourists, those seeking out the 'real Italy' are increasingly heading to Le Marche and many of them are looking to ski during the winter months.
In fact, for Brits looking to ski overseas, the 2012/13 season marked a turnaround in the market, with a 1% increase year on year in the number of skiers travelling abroad. It is the first time the sector has seen an increase since its 2007/08 peak, according to the Crystal Ski Report, but with countries such as Italy doing all they can to court tourists over the winter months, it seems that the 2013/14 season might be an even better one.
For more information on fractional ownership and the wonders of life in Le Marche, visit appassionata.com.