Italy's crowning glory: Hilltop towns prove a hit with visitors from around the globe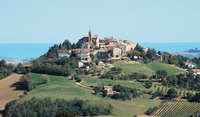 Italy has been crowned the favourite country for the second year running by Conde Nast Traveller readers. Everything from its beaches to its shopping has impressed visitors, with food and culture receiving particularly high ratings.
World-class cities like Rome and Milan are a delight to visit, but those wishing to look a little deeper into the history of this fascinating country need to head out into the countryside, where ancient hilltop towns provide glimpses of a past steeped in rich tradition.
Italy's iconic hilltop towns were built for defensive purposes. Settlers could sit upon the hilltop and see anyone who approached with enough warning to ready their town's defences. Early hilltop towns were built with stone and wood, until the Middle Ages brought thick stone walls, watchtowers and sturdy gates into the equation. The Renaissance then added churches packed with works of art to even the most remote of hilltop towns, creating a wonderful voyage of discovery for future generations.
Italy's ancient hilltop towns remain of interest to this day. Tourists can't get enough of them, as Dawn Cavanagh-Hobbs, owner of fractional ownership company Appassionata and hilltop town connoisseur, observes,
"Hilltop towns have an incredible charm that draws tourists to them and captures their hearts and imaginations when they visit. There is something about the thick stone walls, cobbled narrow streets and ancient architecture that brings the past to life, giving visitors a sense of days gone by that no museum can quite match."
It is in the medieval hilltop town of Petritoli in Le Marche that Appassionata has developed its latest luxury urban factional ownership holiday home, Casa Tre Archi. In fact, the town's ancient defences actually form part of the house, with the curved watchtower wall creating a delightful feature in the living room and roof terrace. The house is named after the three arches, which provide entry into Petritoli and from which it was most heavily guarded in years gone by.
With the need for armed defence thankfully now ancient history, Petritoli's arches are open and welcoming to visitors from around the world, as more and more people discover the delights of hilltop living. Casa Tre Archi's prime position affords owners views of the surrounding Le Marche countryside from the property's generously proportioned roof terrace, while three bedrooms and three bathrooms provide room for the whole family. Fractions are available from £65,000 for five weeks' exclusive usage per year.
For more information on fractional ownership and the wonders of life in Le Marche, visit appassionata.com.