Brazil estate agent uv10.com takes top property award twice in three years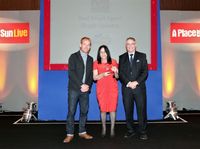 "For a small company, the level of expertise outpaces even the largest players" – this is what the judges had to say when they awarded Brazil specialists uv10.com "Best Small Agent" in the Association of International Property Professionals (AIPP) Awards 2012. Victorious twice in three years, uv10.com has once again proved that customer transparency, due diligence and personal service are a winning formula.
Samantha Gore, Sales Manager for uv10.com, comments, "Sometimes it feels like there's a bewildering array of property awards out there but, for uv10.com, the AIPP Awards stand out as they are independent, focus on customer service, reward excellence and professionalism and the judges truly believe that their chosen winners set new benchmarks for the international property market. With only one award on offer in each category, there is no greater privilege than being singled out according to this set of worthy criteria. We feel we deserve this recognition for working hard on a daily basis to bring the best of Brazil's property in the most proficient manner to our valued clients – some of whom were contacted by AIPP to act as 'referees' and vouch for our business."
One factor which sets uv10.com immediately apart from its counterparts is the fact that the company is based in Brazil full-time. In 2010, uv10.com moved its operation to the South American nation enabling the team to have a far better grasp of the market than most of its competitors who tend to still sell either blind, or with very little "on the ground" experience. uv10.com's managers have both rented and bought property in their own right giving them first-hand experience of the processes, licenses and documentation required – again remarkably uncommon in this industry. Due diligence and regular site visits form a large part of uv10.com's service and this ensures that everything is above-board, clean and legal to protect both their clients and their long-term reputation as a business.
On the Market in Brazil – Dunas de Cotovelo, Ponta Negra, Natal
High-end two-bedroom (both en-suite) beachfront apartments with terraces located near Ponta Negra just south of Natal. Direct beach access, adults and children's swimming pools, gymnasium, steam room, massage and treatment area, bar and restaurant, SKY TV and wi-fi, lift access, parking and 24 hour security/reception. Developer finance available and hotel rental income on offer at 25% (net) of room rack rate, or around 60% of average nightly rental value.
Prices from 279,000 Brazilian Reais (approx 95,362 GBP).
For more information, visit uv10.com.