Shakey's Brother donate download profits to charity fund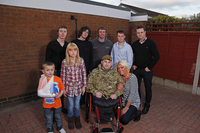 The charity fundraising efforts of Sgt Rick Clement, who lost both legs and suffered massive internal injuries, having been severely injured in Afghanistan in May 2010, are being boosted by downloads of a song penned and recorded by Grammy-nominated band, Shakeys Brother.
Shakeys Brother released the song, 'A Soldier's Tale' having been asked to perform at Aldershot Barracks for 3,000 soldiers, who had returned from a tour of duty in Afghanistan. The feedback from these service men and women formed the basis of the lyrics of a song, which relates the story of a young soldier, who starts to question his role and the reasons for war.
By a twist of fate, unaware of the song, Sgt Clement, who had undergone 18 months of treatment and rehabilitation having been on the verge of death, decided to look for a new lease of life by setting up a website at a-soldiers-journey.co.uk.

He set himself the challenge to raise £100,000 in 2012, assisting four charities which assist those injured while on duty and their families. Shortly after this, he came across the song recorded by Shakeys Brother, thanks to its title being so close to his own fund's name, found that its lyrics resonated with his own feelings and contacted the band, to see if they would be willing to assist his efforts.
Shakeys Brother and their manager, Michael Pink, had little hesitation in agreeing to re-promote the song, to try to encourage as many people as possible to help support those British soldiers injured while fighting for their country.
The East Lancashire band have now made the track available for download at i-tunes and Amazon, as well as at reverbnation.com The profits from each download go to Sgt Clement's fund and support four charities – British Limbless Ex-Service Men's Association (BLESMA), Soldiers, Sailors, Airmen and Family's Association (SSAFA), Army Benevolent Fund (ABF) and Help for Heroes.
Each of these charities is close to the heart of Clitheroe born, but Blackpool-based Sgt Clement, of the 1st Battalion Duke of Lancaster's Regiment, who spent a year in rehab at Headley Court, as medics tried to fit prosthetic legs. This proved unsuccessful, but his rehabilitation taught him how to adapt to his injuries and learn to swim and drive again. Throughout this process, the facilities available, specialised equipment and medical and psychological support for him and his family got him through the darkest days. Establishing the fund at a-soldiers-journey.co.uk is his way of saying thank you.
Rick who recently won the Readers' Award in the Daily Star's 'Soldiering On' Awards, hopes to generate as many downloads of the Shakeys Brother track as possible, to help him motor towards his £100,000 target.
Additionally, he is planning all manner of events, from a parachute jump to swimming with a shark in Australia, funding travelling expenses himself or using Air Miles donated by well wishers, rather than using any money from the fund. 'A Soldier's Journey' will become a registered charity in June.
Sgt Clement says: "I am very grateful to Shakeys Brother for lending such support and agreeing to donate profits from their poignant song to my charity fund. I hope that we can encourage as many people as possible to listen to the song, which they can find on YouTube, be moved by its lyrics and then download it, to generate a charity donation".
Michael Pink, manager of Shakeys Brother says, "The band are honoured to be able to assist Sgt Clement and help him move further towards his goal. His selfless actions should be applauded and I would urge everyone out there, who appreciates how our troops put their lives on the line, to do something very simple and head to i-tunes or Amazon and 'Click for Rick'. All of the money raised in this way will support four worthy charities, which do everything possible for our injured servicemen and women".
'A Soldier's Tale' can be downloaded at the i-tunes store, at amazon.com/The-Soldier-Tale-EP/dp/8007MXM8CG and from reverbnation.com.
Those wishing to 'Click for Rick' and assist the remarkable campaign being waged by Sgt Clement, in support of his chosen charities, can donate at a-soldiers-journey.co.uk.
Businesses, schools, sports clubs and others wishing to help raise funds can talk to Sgt Clement about their ideas by getting in touch through his online contact form at a-soldiers-journey.co.uk. Sponsorship is extremely welcome, as is the donation of Air Miles by anyone wanting to help him reach Australia for his shark dive.