Don't be in the dark about Australia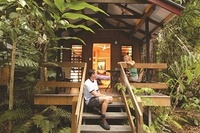 They say a moonlit stroll along a beach in Australia's North Queensland is a must-do experience. But how about an early morning meander along the same stretch of sand during a total eclipse of the sun? On 14th November 2012 at 6.30am, North Queensland will be plunged into midnight darkness as the light of the sun is blocked by the shadow of the moon intercepting it. Observers will be in the dark for at least two minutes, according to the Astronomical Association of Queensland.
For those who enjoy memorable adventures, they don't come much better than this. If you are fit enough, you could even join the Solar Eclipse Marathon which will use the eclipse as the starting gun for its 42-kilometre race. Whatever your preferences, this could be an ideal time to combine a fabulous beach holiday with a once-in-a-lifetime experience.
A beach holiday and a glimpse of the eclipse doesn't need to cost the earth. YHA Australia runs a number of hostels close to the action, which provide high quality and inexpensive accommodation to suit families, groups of friends and backpackers. You can also rest easy in the knowledge that your
visit won't increase your carbon footprint. With more than the average share of sunshine per year, YHA Australia makes a strong contribution to reducing carbon emissions, using solar energy and a range of other energy-saving systems as well as sustainable building materials where it can.
Here we feature the hostels closest to the shadow path of the forthcoming eclipse. With as many as 50,000 Australians and foreign visitors expected to converge on the area, visitors are advised to book early - that or wait for the next total eclipse in Australia, which takes place in 2028. And don't forget to come equipped. The Astronomical Association says eclipse watchers will need purpose-made eclipse sunglasses; wearing stacked sunglasses or exposed film will not protect your retinas. For more information, visit yha.com.au.
Cape Tribulation
Beach House YHA
Nestled within the 110 million year-old Daintree Rainforest, Cape Tribulation Beach House YHA is situated on three hectares of absolute beachfront, with World Heritage reef and rainforest providing epic front and back yards.
This back-to-nature resort has accommodation options, all of them fronting Cape Tribulation Beach, ranging from modern multi-share and double rooms to family-friendly rainforest cabins and deluxe private beach cabins.
Here you can laze under leafy palm trees by the saltwater lagoon pool, kick back and enjoy the beachfront Sand Bar and bistro or wander the expansive grounds teeming with wildlife, and the endless stretches of deserted beach. Among the many facilities, you will find an internet café, DIY communal kitchen, pool tables, games, activities and guest laundry. The tour desk and help you explore the rainforest and reef, on horseback or with a snorkel, by diving, night walking, sea kayaking, taking cruises or bushwalking, to name just a few options. Prices start from $23 per person per night.
Cairns Central
YHA
This is another ideally located hostel for people flocking to see the eclipse. It is within line of sight of the 'red line' of the eclipse and, once the party is over, it is also an ideal base for exploring the World Heritage-listed Great Barrier Reef with its coral islands, sponges, seaweed and underground tunnels and caves. The beaches around Cairns, known locally as the Northern Beaches, are made up of several long stretches of golden sand, including Palm Cove Beach and Trinity Beach. They are perfect for snorkelling, scuba diving and surfing among a range of activities. At roughly the same tropical latitude as Tahiti, it's little wonder that this regions is many travellers idea of paradise.
For those looking for a more leisurely experience, there are four-wheel drive tours and Barrier Reef cruises on offer, a scenic railway to the tranquil, butterfly-fringed village of Kuranda, showcasing natural wonders like Barron Falls and Stoney Creek Falls, as well as the historic engineering feat of Barron River Falls Bridge.
The hostel is set in the centre of town, opposite the shopping centre, and is just a short walk from the Esplanade with its range of restaurants, shops and bars. With a 4,800 square metre saltwater lagoon at its centre, Cairns will provide a good base for those wanting to enjoy the many festivals being staged to celebrate the eclipse in the Atherton Tablelands, and it is within walking distance of a regular night market in the centre of Cairns. It is also close to the Daintree rainforest fringes, thought to be the planet's oldest surviving tropic rainforest, home to Australia's most diverse range of plants and animals. See fresh-water crocodiles sunning themselves on the mangrove-lined river banks, as well as many rare tropical birds and animals as well as Undara and Cooktown. Scuba-diving courses, white-water rafting, bungee jumping and more can be arranged from here. The hostel has 55 rooms, including dorm, twin-double and family rooms. All are air-conditioned and many have ensuites.
Port Douglas YHA
Apart from being one of the most stunning beach destinations in the world, Four Mile Beach in Port Douglas is another ideal spot for viewing the eclipse. Beginning at the northern rocky headland, it continues for four more miles without any buildings interrupting the pristine views. You can sail to an island, snorkel or dive on the Great Barrier Reef, visit the Sunday markets, Mossman Gorge, Daintree Rainforest or Cape Tribulation. If heights are your thing, you can bungee jump or opt for the less stressful option of taking a hot air balloon.
Port O'Call Eco Lodge YHA is ideally located for Four Mile Beach and is five minutes from Port Douglas Village and Marina. This four green star-rated eco lodge has won numerous awards for its sustainability credentials; it uses solar and wind energy for all hot water and public lighting.
The tropical resort has a lagoon-style pool, bistro and bar and offers deluxe doubles/twins, budget doubles/twins, and four share rooms, all with private bathrooms, air-conditioning, ceiling fans, bar fridges and hairdryers. It provides broadband and Wi-Fi communications and there is a free return bus from Cairns to Port Douglas for those who stay two nights.
For more information or to make a reservation visit yha.com.au.