Radio1 and 1Xtra's Academy: Get inspired and get involved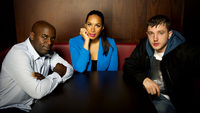 Leona Lewis, Plan B, Labrinth, Dizzee Rascal, Ashley Walters, Rizzle Kicks, Lethal B, Adam Deacon, Riz Ahmed, Paloma Faith, Fearne Cotton, Gemma Cairney and Trevor Nelson are confirmed to take part in BBC Radio 1 and Radio 1 Xtra's Academy - inspiring young people across east London.
BBC Radio 1 and BBC Learning have announced details of the Radio 1 and 1Xtra Academy - the stations' biggest ever programme of social action and outreach, which will offer up to 10,000 young people across Hackney and beyond the chance to gain skills and experience and to be inspired by leading people in their fields.
Opening in the run up to Radio 1's Hackney Weekend - the station's biggest ever music festival - the Academy will feature a host of leading names from the worlds of music, business, film, radio, fashion, comedy, gaming and software and journalism. They will take part in a range of masterclasses, Q&As and panel sessions to explain how they have made it and to offer advice.
Radio 1's Hackney Weekend Ambassadors Leona Lewis and Plan B, along with Labrinth, will all take part in music Q&A sessions about their experience of the music industry and how they got started. They will also star in a new BBC Three programme, Plan B, Leona And Labrinth: Back To Hackney (working title, tx: June) which will see them work with a range of kids aged between 13 and 15 from Plan B's old school, a Pupil Referral Unit in Newham, to create a special musical performance.
Leona and Labrinth will also return to their old schools to explore how life in the inner city can affect opportunities for young people - for better and worse.
Other names confirmed to take part in Q&A sessions at the Academy are:
Dizzee Rascal, Lethal B and Rizzle Kicks, who will be doing music Q&A sessions.
Paloma Faith and Fearne Cotton, who will both be taking part in fashion Q&As.
Ashley Walters, Adam Deacon and Riz Ahmed, who will be doing a Q&A on the film industry.
Dragons' Den success story Levi Roots, who will be doing a business session.
Trevor Nelson, Gemma Cairney and a host of other Radio 1 and 1Xtra DJs, who will take part in Q&A sessions to help inspire young people.
The Academy will also feature a range of other practical workshops and sessions, as well as the chance to speak to careers advisors on site with advice on CVs and interview skills. The sessions include:
Music sessions on how to create your own music and promote it,
Radio sessions on how to create your own radio broadcast, with advice on scriptwriting and interview techniques. Young people taking part in the music sessions will also get the opportunity to broadcast to the nation as part of a BBC Radio 1Xtra Take It On day, taking the reins on 1Xtra for a whole day on Saturday 16 June.
Business sessions on the basics of setting up your own business, how to pitch, market and sell and a special Hackney Dragons Event where young entrepreneurs can pitch for investment from our very own Hackney Dragons.
Fashion sessions on t-shirt design, fashion styling and fashion photography. T-shirts designed by young people at the Academy will be judged by a panel of fashion experts with the winning designs sold as a limited edition Radio 1 Hackney Weekend t-shirt.
Film sessions on scriptwriting for EastEnders and beginners sessions on producing, directing, editing and camera and sound work. Participants who have completed all film beginners workshops will get the opportunity to make a Hackney-themed spoof film, to be shown on the main stage big screen at the Radio 1 Hackney Weekend.
Games and software sessions on developing your own app and building your own website.
Comedy sessions on developing stand-up, as well developing ideas for stage and TV.
Journalism sessions including how to write and get published and masterclasses with journalists from range of publications including The Daily Star.
The Radio 1 and Radio 1Xtra Academy is part of Take It On, Radio 1's commitment to encourage young people to get inspired and get involved to 'take on' their future. It continues the station's tradition of social action campaigns alongside its annual Big Weekend festivals. Radio 1 and BBC Learning have teamed up with a number of local organisations to create and deliver the sessions.
During the Academy Radio 1 and 1Xtra will broadcast a range of shows live from the Hackney Picturehouse, which will shine a spotlight on the work of the young people attending. The work created by young people at the Academy will also feature throughout Radio 1's Hackney Weekend. This includes short films made by the participants screened on the main stage big screen across Saturday and Sunday.
The Academy will be open in the run up to Radio 1's Hackney Weekend from June 1 until June 22, based at the Hackney Picturehouse. Videos and information will also posted online at bbc.co.uk/radio1 to offer young people from across the UK to share in the experience and learn.
Young people from Hackney and beyond will be able to take part in the academy through their local schools, colleges and youth groups. They can also register their interest by emailing takeiton[at]bbc.co.uk.