The Stones In The Park set for Blu-ray debut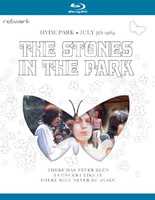 Some bands are discussed, some bands are loved, whilst some bands are worshiped. The Rolling Stones were this, and so much more. Filmed just two days after the tragic death of guitarist Brian Jones, 250,000 fans waded through the rumours, controversy and mud on a pilgrimage to see the group described as "the greatest rock'n'roll band in the world".
Winner of The Best News Documentary at the 1969 Rank News Film Awards, The Stones in the Park documents the free show that saw the band play their hits including Satisfaction, Honky Tonk Woman, Jumping Jack Flash and Sympathy for the Devil. Also included is the moment when thousands of butterflies were released into the air as a tribute to their former guitarist.
The Stones in the Park has been lovingly-restored in high definition and has had its soundtrack remixed in Dolby 5.1 (including the additional song Mercy, Mercy) - this concert has never looked, or sounded, better. A fascinating documentary on the most successful band of their generation, captured at their most vulnerable, The Stones in the Park is a must for all fans of the legendary rockers.
Special Features
Three previously unseen songs which were filmed at the concert - "Mercy, Mercy", "Stray Cat Blues" and "No Expectations". The latter two are incomplete, but are included here due to their uniqueness
World in Action: Mick Jagger discusses his arrest for drugs possession, from July 1967
Mick Jagger press conference on his release from prison, from 1967
Rolling Stones news footage of their early fame, from 1964
Interview with Bill Wyman and Charlie Watts about their tour of France, from 1971
The Stones In The Park - Blu-ray is available to buy on 18th June 2012.