Value for gold on Australia's Gold Coast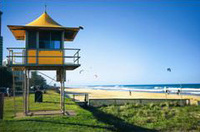 Australia is on many a bucket list but is often regarded as out of reach due to the hefty price tag. Offering wallet-friendly value for money on a wide range of activities and an average of 300 days of sun per year, Australia's Gold Coast holds the key to making that Australian holiday dream a reality.
Here are a few suggestions to help make the pounds go further and replace that dull and dreary British weather with clear blue skies and lapping warm Australian seas....
Markets:
There are markets galore on the Gold Coast catering to every art, craft, fashion or culinary need. Free to explore, visitors can wander around the arts and crafts by the beach, farmer's markets nestled in the rolling hinterland hills or the lantern markets glowing along the boardwalk. Showcasing everything from local produce to the region's handicrafts, there is something for everyone.
Carrara Markets is the largest permanent marketplace in Queensland with over 500 stalls covering ten acres and is a treasure trove for curious visitors. Selling everything from plants to souvenirs and fresh produce to gourmet delights and an array of entertainment including buskers, pony rides, merry-go-rounds, bungy trampolines and face painters, Carrara Markets is a great low-cost day out.
For more information visit carraramarkets.com.au
Outdoor Cinema:
Sanctuary Cove's Village Green is transformed into a picturesque outdoor cinema during the second and fourth Friday evenings of each month.
Visitors can relax on the lawns and enjoy a unique low-cost night out. Perhaps pack a hamper with produce from the morning's local farmers markets and enjoy a picnic under the stars, minus the British rain.
For more information visit sanctuarycove.com/events
Bikeways and Parks:
Home to over 600 kilometres of tracks, the Gold Coast's bikeways run through parks and alongside the beautiful foreshores of the region. The routes are free for the public to use and are the perfect place to rent a bicycle for the day and explore the beautiful surroundings.
The Gold Coast is also home to beautiful nature parks offering another family and cost friendly option. Pratten Park has a large shaded playground with a pedal powered monorail, a pirate ship and playgrounds children will be entertained for hours.
For those looking for a more peaceful and tranquil day, the Southport Broadwater Parklands offers a variety of recreational options including fishing off the pier and swimming. The park also offers spectacular views of the marina which is perfect for an afternoon stroll.
All parks on the Gold Coast offer picnic and barbeque facilities, so grab a spot to spend a lazy afternoon kicking back under a frangipani tree with some snags on the barbie.
For further information visit goldcoast.qld.gov.au/t_standard2.aspx?pid=311
Surf Life Saving Clubs:
For an iconic Aussie meal or snack, one of the many Surf Life Saving Clubs scattered along the coastline right on the beach provides a stunning unique settling with low-cost menu options.
Sample light tapas to a surf and turf, or a simple drink whilst watching the surfers carve up the waves and breathing in the fresh salted air. Admission for international visitors is free.
Suggested picks bmdnorthcliffe.com.au, kurrawasurf.com.au or northburleighslsc.com.au
Swell Sculpture Festival:
The Swell Sculpture Festival is a free outdoor exhibition that creates visual splendour amongst the natural coastal setting at Currumbin Beach.
Over ten days, from 14 to 23 September, visitors can experience the sculptures, enjoy twilight walks and informative artist talks and participate in artist master classes and children's workshops.
For more information visit swellsculpture.com.au
Ticketmates' Gold Coast Combo Passes:
Offering the chance to see the best attractions at a discounted price the all-new Gold Coast Combo Pass gives visitors to the area the opportunity to enjoy some amazing experiences suitable for the whole family - all whilst saving money.
Choose from iconic highlights including Sea World, whale watching, the SkyPoint Climb and Observation Deck, Currumbin Wildlife Sanctuary, waterways cruises and more, this is without doubt one of the best money-saving ways to see the best attractions on the Gold Coast. Prices from £31 per adult and £23 per child.
For more information visit goldcoastpasses.com.au
Bunyip Bike Tours:
Bunyip Bike Tours specialises in affordable and eco-friendly Gold Coast tours to the best locations, covering easy terrain, on tours that have been accomplished by guests aged between seven and 70.
The mountain tour visits a rainforest, winery and the famous glow worm caves while the Beach Safari Tour takes riders along the City's picturesque coastline to a secluded lookout. New for this year is the Wild Kangaroo Experience where riders get up close and personal with kangaroos, koalas, wetland birds and lizards within a nature reserve. Tours start at £30 per person.
For more information visit bunyipbiketours.com.au
Pimpampa Strawberry Farm:
Hidden just off the Pacific Motorway, a visit to the Pimpama Strawberry Farm is a delight for all the senses – for strawberry lovers anyway! Tasty treats include chocolate dipped strawberries, jams, preserves and cakes....and a visit wouldn't be complete without indulging in the exquisitely fresh and extremely popular strawberry ice-cream. There is also a novel animal farm to entertain the kids.
To get there:
Austravel is offering a week on the Gold Coast from £1,095 per person. The price includes return flights, seven nights' accommodation at the four star Vibe Hotel including transfers – a saving of £240. Based on selected travel in September 2012.
For more information visit austravel.com
Infinity Holidays is offering packages from £999 per person. The price includes return flights, seven nights' accommodation at the Islander Resort Hotel, eight days car hire and two for one admission to Ripley's Believe it or not – saving a total of £230.
For more information visit infinityholidays.com
For more information on the Gold Coast log on to VisitGoldCoast.com