Leona Lewis and Adam Lambert join Rays of Sunshine line-up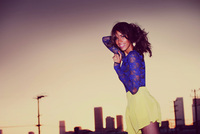 Leona Lewis and American Idol's, Adam Lambert have just been announced as surprise acts joining the line up at The Rays of Sunshine Concert on June 7th. The stars will share the stage at The Royal Albert Hall with JLS, Pixie Lott, Stooshe, Conor Maynard, Diversity and Spelbound.
Hosted by Kiss Fm's Melvin Odoom and Rochelle Wiseman from The Saturdays, the concert has been organised by Rays of Sunshine Children's Charity, which grants wishes for seriously ill children in the UK aged 3-18 (raysofsunshine.org.uk).
Around 2,000 tickets have been given away by the charity to former wish children.
Millions of people have been touched to the core by Leona Lewis's music since she won XFactor in 2006. She has sold over 20 million records and is currently finishing work on her much anticipated third studio album 'Glassheart' due for release later this year. Leona is an ambassador to Rays of Sunshine.
She said: "I love being an ambassador for Rays of Sunshine. Every day of the year the charity adds a touch of sparkle into the lives of brave and deserving children. The Rays of Sunshine Concert will bring hundreds of children together for a precious night of fun and I'm so happy to be a part of it."
American superstar Adam Lambert has taken America by storm since becoming runner up in the 2009 season of American Idol. His first album 'For Your Entertainment' earned him a Grammy Award nomination for "Best Male Pop Vocal . His highly anticipated new album 'Trespassing' is released in the UK on July 2nd. His next single, 'Never Close Our Eyes' written by Bruno Mars, will be released in the UK on June 24th.
He said: "I am so excited to be here in London performing at The Rays of Sunshine Concert. It's going to be an awesome night for an awesome charity".
The few remaining tickets to the concert are available from royalalberthall.com. Prices start at £25. (Booking fees apply except to personal visitors to the Box Office.) Doors will open at 6.45pm and the show will start at 7.30pm.
The Rays of Sunshine Concert is sponsored by adot.com.