Brits pay less for Brazil property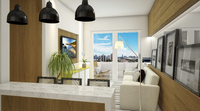 Whilst Cameron tries to dodge his double dip, Britain's currency is at least showing strength and trading at a two and a half year high against the Brazilian Real. Suddenly, a holiday home or investment purchase in this alluring Latin American nation is an even more affordable prospect.
Samantha Gore, Sales Manager of Brazil specialist estate agents uv10.com, comments, "From early June 2011 until now the Brazilian Real has been fading against the Pound, to the tune of 28%. Likewise, the US Dollar is at a two and a half year high and the Euro a two year high against Brazil's currency. The maths is simple, if you bought a five-star, two bedroom beachfront apartment south of Natal on 1 June 2011 it would have cost you £111,617 but today it would cost just £90,564 – the difference is enormous."
This very attractive Brazil property-buying scenario has come about by the retreat of the Real. The Eurozone collapse has sent shockwaves over to Brazil as investors fear that demand for this Latin American nation's exports could drop sharply as an at least partial Eurozone breakup becomes increasingly likely.
Brazilian Finance Minister Guido Mantega is pleased that the Real is losing value and therefore becoming more competitive. He said, "The weak real is beneficial for the Brazilian economy because it makes Brazilian products more competitive, which means that Brazilian industry can better compete with imported products that become more expensive, and can export more."
uv10's Samantha continues, "The Brazilian optimism extends further. The middle class continues to grow, fuelling demand for property and keeping prices on an upward trajectory, at least for a few more years. Benchmark interest rates have just been lowered to 9%, which is great news for local buyers eyeing a mortgage and developers seeking finance for new projects. In 2014, the FIFA World Cup comes to Brazil and then Rio de Janeiro takes on Olympic hosting duties in 2016. Once these events have passed, there will still be huge oil exploration to keep Brazil in the spotlight and in the money. Meanwhile tourist arrivals continue to rise, further fuelling the country's economy which managed 2.75% GDP growth in 2011."
Indeed in 2011, Brazil welcomed a record number of visitors - the Ministry of Tourism released figures of 5.4 million people - 5.3% up on 2010's figures. Best Western International has responded by opening its 17th hotel in Brazil, but the first from its Best Western Premier brand, the five-star Best Western Premier Majestic Ponta Negra Beach – one the most famous beaches in Brazil. Best Western International aims to have 20 hotels in Brazil by 2017. Marriott is also adding 12 hotels to its five existing properties in Brazil as it predicts a hotel room shortage throughout the spectacular sporting events coming up.
For property priced from as little as 155,700 Real (approx 48,800 GBP) for two bedroom apartments in Golden Fields, Natal, or information on the stunning beachfront Dunas de Cotovelo resort close to Ponta Negra, visit uv10.com.