Game, set and match at Bluebird Chelsea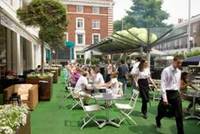 Bluebird Chelsea is once again celebrating Wimbledon fortnight with live tennis from their forecourt on the King's Road. The green astro turf and enormous Bluebird tennis balls will make their annual return with a giant outdoor television showing all the Wimbledon matches.
New for this year is a special men's final menu on Sunday 8th July for guests to enjoy while they watch all the action. Created by Bluebird Café's head chef Robert Izdebski, the three course menu includes dishes such as pork and plum terrine with onion marmalade, cornichons and toasted brioche; sea bass fillet with artichoke, black olives, cherry tomato and a rocket salad; and Eton mess.
Bluebird Chelsea has also teamed up with Moet & Chandon Champagne for summer 2012 and will be offering an innovative twist to the traditional champagne and strawberries by pairing the little known pineberry with each glass of Moet & Chandon. The pineberry is an exotic fruit that combines the shape and texture of a strawberry with the flavour and smell closer to that of a pineapple, providing a unique taste and the perfect complement to a glass of bubbly.
Bluebird Chelsea's men's final menu costs £50 per person for three courses. Bookings are subject to availability.
Bluebird Chelsea opened in 1997 and comprises of cafe and courtyard, restaurant, bar, food store, wine cellar and 4 private dining rooms. It is one of the 20 restaurants in the capital owned and operated by D & D London.
Bluebird Chelsea
350 King's Road
London
SW3 5UU
Visit bluebird-restaurant.co.uk for more information.