Summer sailing in Mallorca boosts property investor confidence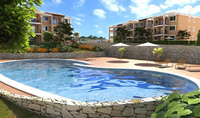 The beautiful Spanish Island of Mallorca, a popular holiday destination for Brits and Europeans alike lured by the island's sophistication and diversity is currently gearing up for one of the most significant luxury sailing yacht events - the annual Superyacht Cup.
As the longest running superyacht regatta in Europe, now in its 16th year, the Superyacht Cup has drawn in hundreds of sailing superyachts to the occasion since it began back in 1996, gathering the world's largest and most impressive privately owned superyachts to the Bay of Palma every year to participate in the four day invitation only event.
Kicking off today, the event is designed to showcase the Balearic Islands as one of the best superyacht bases in the world, chosen for its central location and reliable wind conditions as well as tourist attractions by combining spectacular boating vessels and competitive sailing with a relaxed and glamorous atmosphere ashore.
Marc Pritchard, Sales and Marketing Manager of Taylor Wimpey de España who also lives on the island, comments, "Every year this prestigious event not only sees many boating enthusiasts preparing to set sail from the dazzling Mallorcan shore but an abundance of intrigued visitors flocking to the island to witness the action. Indeed, international events of such magnitude continue to aid Mallorca's reputation as the place to be and while many sailing devotees are attracted to such events, many more stay for Mallorca's sun soaked climate, striking blue flag beaches and high class restaurants."
With this in mind, the natural beauty and popular social programme of the island means that the demand for accommodation increases, with rental property close to marinas becoming highly desirable.
Pritchard further comments, "There are many benefits to be had from owning a home in Mallorca as it can offer a great rental income for owners throughout the year. The stunning Balearic Island offers a wonderful quality of life and superb properties that are so often desired by tourists and potential home owners. And, although recognised in part, as a hub for the rich and famous, Mallorca has plenty to offer in terms of affordable property with something for everyone."
Meanwhile the recently launched 'Palma 365' campaign designed to encourage winter as well as summertime tourism to the Balearic Island will be further aiding potential Mallorcan property investor confidence this year.
Palma 365 will aim to develop new ideas and offers to attract winter visitors highlighting Mallorca's mild winters and limited rainfall and promoting the year-round nautical and golfing activity on the Island.
For property investors looking to cash in on the rental potential from Mallorca's superyacht race as well as abundant year round events programme, leading house builder Taylor Wimpey de España has some stunning Mallorcan properties on offer.
El Puerto II situated in Cala d'Or, south east Mallorca has 2 bedroom apartments surrounded by generous gardens with native Balearic plants and 3 communal swimming pools. Costing from €171,500 this sophisticated complex is within reach of the blue flag beach, Cala Mondrago and within easy reach of the superyacht action.
Following the success of Cala Magrana I and II Taylor Wimpey España have launched phase III located just 500 metres from Cala Anguila beach and a stone's throw from the sea on Mallorca.
The Cala Magrana III residential complex is situated very close to several golf courses and the marina of Porto Cristo and consists of 2 bedroom apartments with sea views with a Mediterranean design surrounding a communal garden and swimming pool priced from just €199,500 + VAT.
For more information, visit taylorwimpeyspain.com.