Baiersbronn: Light up the valley!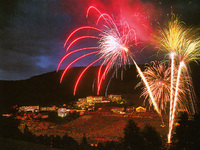 One of the most romantic events on the Black Forest calendar takes place in Baiersbronn on 28 July 2012 - the "Tonbachtalbeleuchtung". Imagine a warm summer's night and 40,000 small candles in colourful paper cups floating through the valley like a sea of light.
The locals express their creativity by tracing words and patterns with the candles, while a dazzling display of fireworks and a hot air balloon floating above the thousands of spectators lounging on the grass create the perfect trimmings for a delightful and enchanting evening.
Murgel, Baiersbronns mascot, will run a unique and entertaining programme for children. Adults will have the chance to test their skills on a Segway tour.
This year, music will be provided by "Schwarzwald-Buam", a Black Forest folk trio, and Ireland's Tom Murray. The food stalls sell delicious Black Forest produce such as ham, cheeses and breads. It's the perfect family night out!
Baiersbronn's mayor, Michael Ruf, will open the event at 7.30 p.m. and fireworks will light up the sky at 10.30 p.m.
The entrance fee is €3.40 per person. Children and teenagers up to the age of 14 are free.
Baiersbronn Touristik offers an attractive gourmet package, including an unforgettable two-night stay and 6-course meal, inviting guests to relax and enjoy. In addition to the fantastic meal, the package deal includes a bottle of wine, herb salt and a gourmet recipe collection from Harald Wohlfahrt.
The price for the gourmet package is €225.00 per person in a double room. Further information can be found at:
baiersbronn.de/pauschalen/164/en/taid,4076/local-package-tours.html