Ulusaba Private Game Reserve 2012 offers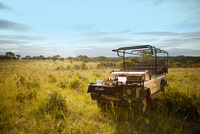 Did you know that Ulusaba Private Game Reserve, Sir Richard Branson's beautiful award-winning luxury retreat, has some fantastic offers in place for 2012 giving you more reason to book a stay!
Ulusaba has a free night offer available for guests who book to stay between now and the 22nd December 2012; which means you can treat yourself for a little bit longer and enjoy the final night for free! Guests can either book to stay for 4 nights for the price of 3 or 5 nights for the price of 4. Rates start from ZAR 4,750 per person per night based on double occupancy in Safari Lodge and includes accommodation, all meals and drinks, twice daily game drives, all drinks (including alcoholic), as well as a team of fabulous staff.
If you're taking a holiday and taking your pride, kids otherwise known as Cubs at Ulusaba, aged from 0 - 11 years can stay at Ulusaba's Rock Lodge for free throughout 2012 and 2013! That's a saving of ZAR 2,000 per child per night. Ulusaba tailors fantastic programmes for the little ones at the Cub's club... like keeping them out of trouble for a start... Kids over the age of 6 can join the rest of their pride on game drives.
If you're flying solo, as a single traveller there's never been a better time to stay at Ulusaba and for most categories of rooms we've waived our single traveller supplement, and in others we've reduced it by 25%. While at Ulusaba you'll be meeting fellow guests on the twice-daily game drives and at meal times which are mostly served in a shared, communal setting. The offer is valid for any new arrival before 10th December 2012 and rates start from ZAR 7,100 per night.*
For those who fancy getting snap-happy and exploring the African bush in a truly unique way photographic safaris are also available. Aimed at amateur photographers and led by Ulusaba's professional rangers and trackers who are also experienced photographers. They teach guests how to interpret animal behaviour so they can capture some outstanding pictures to treasure forever.
Rates for photographic safaris start from R5,500 per person per night in a Safari Room and are based on double occupancy and a minimum stay of 3 nights. Rates are valid for arrivals until the 22nd December 2012.
Last but by no means least, Ulusaba also has a South Africa residents offer available for 2012 for R13 000 per person for a 2 night stay.
Visit virginlimitededition.com for further information.