Ruska brings vibrant colours to Finnish Lapland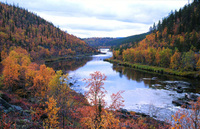 One of the most underrated seasons in Finland is Ruska; autumn time where the colours are vibrant and show off Finland's dramatic scenery.

The phenomenon is especially evident in Lapland, where landscapes virtually explode into spectacular displays of colour. The peak season lasts two to four weeks in September.

Here's a few hints where and how to best enjoy Ruska:

Harriniva, Muonio

Harriniva Holiday Centre in Muonio is located along the Swedish boader of Finnish Lapland and offers activities for the adventurous Ruska traveller including river rafting and quad biking. Those who wish to enjoy Ruska at a more relaxed pace can take a self guided or escorted walk in the fells or a trip on a fishing boat (equipment and boats are available to rent), two ideal ways to observe natures spectacle or try miniature or frisbee golf. After a long day exploring the outdoors guests can relax at Aurora Wellness and Jeris Spa. The holiday centre is also known for having one of the largest husky farms in Finland, housing approximately 400 dogs.

Doube rooms at The Harriniva Hotel are priced from €95 in September, including a buffet breakfast and sauna. Alternatively a two person simple cabin is available from €40 per night, this accomodation option includes use of a bathroom shared by other guests.

For more information or to book, visit harriniva.fi/en.

Get to Harriniva: Finnair flies from London Heathrow or Manchester to Kittila via Helsinki, from where there are three (or four during school holiday period) bus connections which will take vistors to Muonio in around one hour twenty minutes from €20 per adult.
For further information and timetables, visit matkahuolto.fi/en/.

Kilpisjarvi

Kilpisjarvi is a tiny village located in the north of Finland on the Norwegian border. This peaceful village is one of the few places in the world where you can enjoy the Northern Lights and Ruska simultaneously in an area of untamed natural beatuy.

Kilpisjarvi is one of the best places in the world for Arctic treks as its secluded location and stunning scenery lend themselves perfectly to trecks for adventurers, nature lovers and photographers. Wilderness guide Martti Niskanen of The Lapland Connection offers a three hour 'Autumn's Nature Trip' which takes in the natural surroundings. The group will be accompanied by a Siberian husky dog throughout the trip and traditionally cooked hot snacks are provided. The tour must be booked in advance and is available from €45 per person.
For more information, visit
tosilappi.fi/In_English/Search_for_companies/Activity_services.iw3?CompanyID=367

Visitors can stay in Tundrea holiday centre and enjoy one of the most beautiful landscapes in Finland at the foot of the iconic Saana fell. Taislos Cottage sleeps two and has a kitchen, sauna and terrace. The cosy cottage is available from €540 per week in September. For more information or to book, visit tundrea.com/en/.

For more information about Kilpisjarvi for travellers, visit tosilappi.fi/In_English/Home.iw3.

Get to Kilpisjarvi: Finnair flies from from London Heathrow or Manchester to Kittila via Helsinki. From Kittila there is a bus connection which departs twice daily seven days a week. The connection with the shortest journey departs at 1.35 pm, the connection takes just over four hours and costs €48.70 per adult.
For further information and timetables, visit matkahuolto.fi/en/.
Yllas, Kolari
Yllas is one of Finlands most popular ski resorts during the winter months however in September, before the snowy winter season, the seven fells of the area offer great terrain for leaf peeping too. Visitors cen enjoy fun activities whilst experiencing Ruska such as a thrilling experience at the 'Trek Bike Park' where brave riders can experience the rush of a 3 km downhill. Alternatively a relaxing session of horse riding is the perfect way to take in the countryside or travel on a gondola lift to the top of Yllas fell. The gondala also has a unique sauna carriage, an unusual experience to delight visitors. Adventure seekers can rent a canoe or kayaking and borrow a map to discover the local Lappish nature on their own.

For further details about these activities and how to book, visit yllas.fi/en/activities.

Yllas has a reputation for hosting fun local cultural events and the Ruska season is no exception. Watch films under the stars in the outdoor theatre or enjoy the choir festival in September.
For more information please visit Yllas event's calendar, visit yllas.fi/en/events.

Get to Yllas: Finnair flies from London to Manchester to Kittila via Helsinki. There is a daily bus connection from Kittila airport which takes just over 30 minutes to reach Yllas.
For further information and timetables, visit matkahuolto.fi/en/.

Levi, Kittila

Like Yllas, Levi is another of Finland's ski holiday resorts and the area benifits from striking hills and valleys, perfect for enjoying the Ruska season. Levi is home to an adventure park where families can enjoy a variety of highropes adventure courses. Families may also like to visit the summer sled track where they can enjoy tobogganing or visit the Reindeer Park or Husky Park where kids can take part in feeding, petting or even try their hand at lasooing a reindeer.
For further information, visit levi.fi/en/experiences/summer-experiences.html.

After a busy day visitors in need for relaxation can chill out in Lapland's largest spa water world, Spa Hotel Levitunturi, where they can enjoy 17 pools, saunas outdoor jacuzzis and a childrens play house for kids ages four to seven. Admission costs from €18 per adult (winter prices may vary).
For more information, visit hotellilevitunturi.fi/en/spa.

During September there will be some exciting events in Levi including marathons, a car rally and a theatre festival.
For more information, visit levi.fi/en/experiences/happenings-2012.html.

Get to Levi: Finnair flies from London Heathrow to Kittila via Helsinki airport. Levi is only ten minutes from the airport and taxi's are available form the airport. Alternatively buses are available from the airport which take twenty minutes and cost €5.30 per adult.

Visit Finland online at visitfinland.com.