Heston Blumenthal to headline culinary festival in Western Australia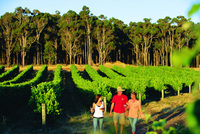 Margaret River, one of Australia's top food and wine regions, will showcase its gourmet experiences at a new festival, the Gourmet Escape, from 22-25 November 2012. Over four days, 25 of the world's best chefs, wine critics and celebrities will run master classes, pop-up restaurants, cooking demonstrations and tastings in the region's most stunning landscapes. Visitors will be able to mix with international and local chefs, winemakers, cheese and truffle producers at venues that will include vineyards, beaches, forests and caves.
The first major signing for the inaugural event is the UK's Heston Blumenthal. Known throughout the world for excellence, innovation and creativity, Blumenthal is currently rated in the top ten for San Pellegrino's awards for his new restaurant Dinner By Heston Blumenthal.
"I am really excited about coming to Margaret River. Firstly it's one of the jewels of Australia - the most beautiful setting, and it just happens to produce some of the best wines in Australia, and some of the most amazing produce," Blumenthal said.
In another major coup, Rene Redzepi from Denmark, whose restaurant Noma was recently ranked the world's number one for the third time, will also take part in the event as well as Australian favourites Justin North of Becasse in Sydney, local star Matt Stone of Greenhouse in Perth and Dany Angove of Leewin Estate Winery in Margaret River. Other top chefs and culinary personalities from Australia and around the world will be announced in the coming weeks.
A Gourmet Village at the famous Leeuwin Estate Winery will act as the event hub with dozens of masterclasses, pop-up restaurants, cooking demonstrations, wine matching and meet the winemaker sessions, live music, and the chance to taste and buy the very best West Australian wine and produce.
Spin-off events will include a pop-up cocktail and wine bar which will host live music events overlooking the Indian Ocean, indulgent long-table lunches at one of Margaret River's best known wineries featuring leading sommeliers; and a BBQ by a high profile chef at one of the region's pristine beaches on both Saturday and Sunday. There will also be three to four themed guided tours on wine routes through the region to help visitors explore the best vineyards in the area.
Margaret River, which is a 3 hour drive south of Perth, is home to more than 220 wineries. It accounts for about 3% of Australia's total wine exports but produces over 25% of Australia's premium wine. It also boasts some of the world's most beautiful beaches, spectacular tall tree forests, cave systems, incredible surfing, whale watching and wildflower seasons, making it an extraordinary holiday destination.
Bridge & Wickers (bridgeandwickers.co.uk) has a 7 night package from £2,080 pp including return flights to Perth with Qantas, transfer on arrival, 3 nights at the Duxton Hotel, Perth, room only, 4 nights in the Margaret River staying at Quay West Resort Bunker Bay in a studio villa, room only, and 4 days' car hire.
For more information on holidaying in Western Australia, visit westernaustralia.com.
An announcement regarding ticket sales to Margaret River Gourmet Escape will be made in the coming weeks. To stay up to date with program information, ticket releases and travel options, visit gourmetescape.com.au.