Good progress for Murcia's Paramount Theme Park and International Airport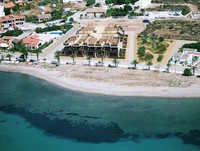 As many Spanish businesses enjoy summer closing and holidays with family and friends, quiet progress is being made behind the scenes with Murcia's Paramount Theme Park and the new Corvera International Airport. The news is positive and the Region is on course for an even brighter future.

The first piece of good news came from the Paramount Theme Park camp where a new agreement was formalised in July. This laid down the regulations for the construction and operation of the attraction and was signed by the Mayor of Alhama de Murcia and Jesus Samper, the President for Murcia's Flagship Projects (PREMURSA). This agreement replaces the original which had to be modified when the amount of land purchased was slightly less than first intended. The local council has reiterated that the Theme Park is continuing "on schedule" and Samper said "every day saw positive progress".

The second encouraging announcement relates to Corvera International Airport that has been "opening soon" for quite some time now. Installations and licenses are now, in the main, in place and Jet2 airlines has already said it will transfer its operations from San Javier to Corvera when it has the green light. Said 'green light' could come as early as November 2012 as the new Head of General Air Academy at San Javier, Colonel Emilio Juan Gracia, said the Region's two airports were "close to reaching an understanding" on how to transfer operations from one to the other.

In addition, despite rumours of serious financial hurdles, spokesperson for Murcia's Regional Government, José Ballesta, has recently offered his reassurance that the banks behind the Corvera Airport project are "calm" and awaiting the return of their investment patiently and with realistic expectations. The bank heading the financing plan, La Caixa, is said to be pleased with how the project is progressing. Meanwhile, Ana Pastor, the Spanish Minister for Public Works, said there was "peace and security" concerning the future of the Airport and she too believes everything is in place to have it operational before the end of 2012.
Chris Mercer, Director of real estate agent Mercers which is headquartered in Camposol Golf, just ten minutes from the Paramount site, commented, "No one is blind to the problems that Spain is facing financially, public spending cutbacks and high unemployment are taking their toll but glimmers of hope and positivity exist – in fact Spain's GDP was down just 0.4% for Q2 2012 whereas the UK's was down 0.7%. Murcia is laying foundations for the future, putting itself in pole position for recovery, and in the meantime property prices are rock bottom - at their lowest in a decade. Two bed resales are available for less than than 40,000 pounds and bank-owned frontline beach apartments are discounted by 60% off peak prices with a 100% mortgage to boot. We're busy with bargain hunter buyers."

On the Market in Murcia:

Bank Owned - Edificio El Cabo (The Cape) – La Azohia, Murcia

This development of 11 beachfront two bedroom apartments is a real find. Set in La Azohia, one of the prettiest fishing villages in Murcia some 20 minutes east of chic Puerto Mazarron, each of the apartments has a sea view, a good size front terrace or porch and either a back patio or enormous rooftop solarium from which to enjoy the panoramic vistas of Mediterranean and mountain.

Previously selling for up to 270,000 euros (approx 212,250 GBP), the apartments are now owned by the bank and priced from as little as 159,000 euros – that's around 124,992 GBP or almost 60% off. As they are in the hands of the bank, 100% finance is available and there's also an option to purchase an underground parking spot and storage room for 12,000 euros (approx 9,433 GBP). There is opportunity for long-term capital growth and short- and / or long-term rental income due to the incomparable beachfront setting.

For more information, visit spanishproperty.co.uk.