Wonderful wine storage from Caple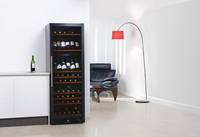 Make an impact in a modern kitchen scheme with leading appliance specialist Caple's Sense WF1547. Featuring three temperature zones for red, white or sparkling wine, all independently controlled, this striking wine cabinet from Caple's Sense range holds 132 Bordeaux-style wine bottles behind a sleek, black glass door with a gloss black frame.
Caple wine cabinets are renowned for featuring the latest advanced technology, which enables you to set the exact temperatures you require inside so your wine will always be kept at its perfect storing level. In fact, absolute control of the temperature is paramount because any fluctuations will affect a wine's complex flavours. All Caple's wine cabinets come with UV-protected glass doors and UV-free LED lighting inside, too, which is important for optimum storage as ultraviolet light will cause wine to age prematurely.
Caple Sales Director, Danny Lay, says: "Our wine cabinets are vibration-free with five temperature sensors to maintain the temperature accurately. They are designed to improve the condition of your wine, which is why they are proving so popular as homeowners are looking for the facilities, which will store their wine in perfect conditions, without affecting its quality."
The Sense WF1547 features fitted shelves and will work perfectly in an open-plan kitchen as it operates at an ultra quiet 45db, which means you don't have to worry about sound level interruptions when entertaining or spending time in this area with your family. It's also freestanding so you can move it where you want to and take it with you if you move home.
Measuring 1762mmH by 683mmD by 595mmW, the Sense WF1547 is priced from around £1,759 inclusive of VAT.
Sense WF1547 additional features
No frost compressor cooling system
100% CFC/HFC free
Fan circulated cool air for even temperature distribution
Two heaters raise internal temperature when external temperature drops
Air ventilation through black base plinth
Electronic temperature control and LED display
Three humidity control water tanks
Reversible door and door lock
Six sliding shelves, two display shelves and one base shelf in dark wood
Stainless steel, black-spot feature bar handle
Toughened UV-protected glass door and black cabinet interior and exterior
Energy level: D
Performance:
Temperatures - Upper zone:5C-18C; Middle zone:5C-12C; Lower zone:12C-18C
Ambient temperature: 5C-32C
Humidity range: >65%RH
Capacity:
14.23Cu ft/404litre total net capacity, 15.86Cu ft/449 litre total gross capacity
Bordeaux wine bottle storage:
43 bottles - upper zone; 45 bottles - middle zone; 44 bottles - lower zone
For further information, visit caple.co.uk.