Replace concrete with these durable surfaces in your kitchen and bathroom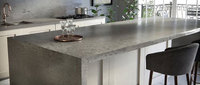 Concrete and cement were there as a primary material for bathroom floors and worktops. But as the days are passing by, these materials are going out of trend. If you want to know the reason, it is because most traditional building products are difficult to maintain. In addition, concrete can disintegrate over time and chip very easily. Furthermore, there is a concern that besides the look, it is also a good idea to have your kitchen worktops sealed. This makes the surfaces hygienic which is important to factor when preparing foods.
Now you must be searching for a more contemporary material which will remain beautiful even with rough and frequent usage. Read on to know more!
Silestone is a brand name of quartz surfaces. It has taken the place in the primary list of the interior designers for over two decades. Many decor Companies are releasing Silestone designs which are being made with a sophisticated and new range of colours. Silestone gives a contemporary and fresh take on the architectural and industrial look of cemented surfaces. The material has an added advantage of being stain, scratch and etching resistant. Silestone worktops are also known for their low liquid absorption nature. Coupled with the fact that they recreate the concrete effect worktop with perfection, it is ideal for kitchen decoration.
Given below are the two latest additions to the 2018 Silestone product range, which are removing the use of concrete and cemented surfaces for bathrooms and kitchens in the decoration and interior surface segments:
Silestone Brooklyn
With the look of concrete, it has a grey textured surface. In comparison to building concrete, Brooklyn is anti-bacterial, non-porous and highly resistant to scratches and stains. If you are looking into the depth to get more of the old feel, have an eye on the new Raw Finish. The Raw finish allows you to feel the real texture of concrete, but with the embedded strength of quartz. You will find this colour a perfect choice if you want the industrial-chic look in your designs.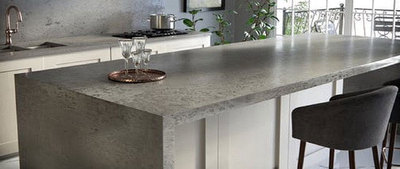 Also, this material will bring exceptional mechanical properties to your creations. Firstly, it is highly resistant to heat and cold temperature conditions. This means you can use them in any interior situation which goes through extreme temperature conditions. Secondly, it is non-porous. Hence, it won't be the breeding place for germs and microorganisms. This also proves that it doesn't need a sealant and is easy to clean on the go.
Sometimes, conditions may arise that the look is much more important than performance. Hence, this material scores well too. Silestone has a palette of over 50 different shades/colours. You can also select Silestone slabs and tiles for your bathroom and kitchen.
Silestone Silverlake
Silverlake offers the look of cement and concrete but comes with better features than the traditional building materials. The silvery-grey patterns and white base with different shades, allow you to create industrial designs in places such as bathrooms and kitchens. In comparison to building materials, Silverlake is non-porous and it doesn't require sealants. In addition, it is very resistant to stains and scratches. Equally important is to know that it is water repellent too. For these reasons, you need not have to worry about the durability of this product.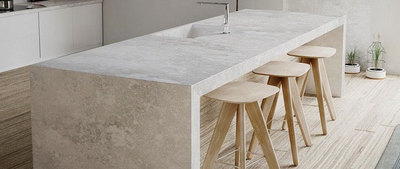 Silestone slabs come in large sizes, providing your space with large seamless design, offering sleek aesthetics and minimalistic looks. You can make use Silestone in kitchen worktops, vanity tops and as wall cladding. To bring a more industrial feel to your bathroom and kitchen, you can also choose Silestone in Suede finish. Additionally, it is available with a heavy texture called Volcano finish which provides you with a combination of both an industrial and a contemporary look.