6 important things to consider when buying a new toilet
You may think that you don't have to look too long or too hard when shopping for a new toilet. However, with the new features and smart technologies that are taking over the market, you'll have a variety of options to choose from, no matter what your budget is, which means you have some serious consideration to do before making a purchase. Toilets vary depending on their model, color, shape, and, size, so before you pick the first one you lay eyes on, you must understand its basic features to look for first.
In this guide, we'll introduce you to six of them.
1. Toilet Type
As you venture through the market, you'll find an array of toilets, like the one-piece or two-piece, wall-mounted, and tankless toilets. Mostly, they all function similarly; however, people choose between them depending on their bathroom interiors. For instance, two-piece toilets go well with a variety of bathroom styles, as opposed to one-piece toilets, which only work for contemporary or minimalistic bathrooms due to their sleek designs.
Wall-mounted and tankless toilets are more fitting for modern or eclectic décor, but the latter's flushes are more powerful due to it being connected to the supply line. Based on this information, you must consider the interior of the house and bathroom appeal first before choosing a new type.
2. Round Bowl vs. Elongated Bowl
For the shape of your new toilet bowl, you should consider your bathroom's layout first to decide on which design will be more suitable. The spherical shape, for example, takes up little space in your bathroom, so if you have a small bathroom, this will be an ideal option. On the other hand, elongated bowls are longer and sometimes larger than round bowls; therefore, it will take up a larger space, so they will be best installed in larger bathrooms. In any case, make sure that the bowl is large enough for comfort and not just to suit your bathroom layout.
3. Flush Performance
It's crucial that you get a toilet with excellent flush performance to get the optimal waste removal results. As the name suggests, gravity toilets flush out waste using gravity; the water is stored in the tank and flows downward. Pressure-assist toilets, on the other hand, have a mechanical tank inside the tank itself, and it uses a pressurized stream of water to get rid of all waste.
As you may have guessed, these toilets are way more effective than gravity toilets, but they can be more expensive. They are also more difficult to install compared to the other types. This goes to show you that there's more to toilets than you think, so you should be more careful when considering these aspects. Visiting the MaP's website, which is a trusted toilet-testing organization, you might find more details and reviews on different types of toilets.
4. Color
The color of the product you choose is as important as its functionality and price. After all, getting a pink toilet in the bathroom with a neutral color scheme certainly won't look flattering at all. Luckily, toilets nowadays are manufactured in different colors for more variety and accessibility. So, make sure that you make use of this perk by evaluating the color scheme in your bathroom before picking the color.
5. Size
As mentioned earlier, the size of the bowl should be proportionate to the layout of the bathroom. By extension, this will make the size of the whole toilet proportionate to that of your bathroom layout. If you're not sure which model to choose, you can measure your older toilet and get a new one with similar measurements. The MaP is a good place to start your hunt for a toilet with similar measurements, but make sure that you consider other factors as well, like the design, color, and flushing mechanism. You might also want to consider the new height that you want your new toilet to stand at. Ideally, 15 inches from the toilet seat to the floor is a good height, but you can increase it up to 16 or 17 inches.
6. Price
Finally, the most important thing to consider on this list is the pricing. Getting a toilet with the exact features that you need and a price tag that fits within your budget range used to be a tough nut, but with the availability and variety of toilets on the market nowadays, it shouldn't be a hard task, especially if you know where to look. There are cheap models with many great facilities, so you might stumble upon one of those and save a few bucks, but make sure that it has all the features you need.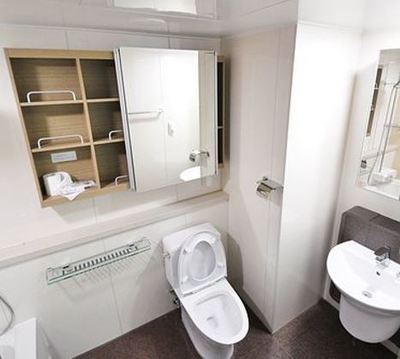 Now that you know the basics that make a good toilet and the facilities you should be looking for, finding the right toilet for your preferences and budget shouldn't be a difficult task. Once you got these 6 considerations out of the way, you can think of other luxury features, like automatic flushing, self-deodorizing, and self-cleaning.