Transforming Your Bathroom Oasis: Design Ideas and Must-Have Supplies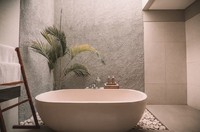 Bathrooms are no longer just a functional space in the house; they have become an oasis for relaxation and rejuvenation. Whether you're looking to create a spa-like atmosphere or a modern, minimalist design, there are many ways to transform your bathroom into a stylish and practical space.
Bathroom renovations can be a daunting task, but with careful planning and the right supplies, you can create a beautiful and functional bathroom oasis. From selecting the right fixtures to choosing the perfect bathroom tiles, every detail counts when it comes to creating the perfect bathroom.
In this article, we'll explore various design ideas and must-have supplies to help you transform your bathroom oasis. We'll cover everything from lighting and storage to fixtures and finishes, providing you with the inspiration and guidance you need to create the bathroom of your dreams.
So whether you're planning a full-scale bathroom renovation or just looking to update a few elements, read on for some practical and stylish ideas to transform your bathroom into a soothing and rejuvenating space.
Upgrade Your Bathtub
If you have enough space, consider upgrading your bathtub to a luxurious spa-style soaking tub. This type of bathtub is designed to provide a relaxing and therapeutic experience, with jets that can massage sore muscles and promote relaxation. A soaking tub can be a great addition to your bathroom oasis, providing you with a spa-like retreat that you can enjoy anytime.
Add a Vanity Table
A vanity table can add a touch of elegance to your bathroom and provide you with a dedicated space for your beauty routine. You can incorporate a vanity table with a built-in mirror and storage drawers to keep your makeup and beauty products organized. A comfortable stool or chair can complete the look and provide a comfortable seating area for getting ready.
Consider a Statement Piece
A statement piece can add visual interest and personality to your bathroom oasis. Consider incorporating a unique piece of art, a bold wallpaper, or a striking light fixture that can serve as a focal point. This can be a great way to inject your personality into the space and create a bathroom that is truly your own.
Bathroom Tiles for an Elegant and Timeless Look
Bathroom tiles are a popular choice for homeowners looking to create an elegant and timeless look in their bathroom oasis. With a variety of styles, colours, and sizes available, bathroom tiles can be used to create a range of designs, from modern and minimalist to classic and traditional.
One popular trend in bathroom tile design is the use of large-format tiles, which can create a seamless and visually striking effect. These tiles can be used on floors, walls, and even in the shower, creating a cohesive and elegant look throughout the space.
Another popular design trend is the use of patterned tiles, which can add visual interest and depth to a bathroom oasis. From geometric shapes to floral patterns, patterned tiles can be used to create a range of styles, from retro and vintage to modern and eclectic.
Incorporating bathroom tiles into your bathroom oasis design can elevate the space and create a timeless look that will stand the test of time. With a variety of styles and designs available, homeowners can find bathroom tiles in Sydney to suit any taste and create a truly unique and personalized space.
Upgrade Your Bathroom Technology
Technology has made its way into our bathrooms, providing us with a range of high-tech solutions that can improve our daily routines. From heated toilet seats and smart mirrors to touchless faucets and digital shower systems, incorporating technology into your bathroom can make your life easier and more comfortable. With a vast range of bathroom technology available in the market, explore the options that fit your lifestyle and preferences to take your bathroom oasis to the next level.
Maximize Small Bathroom Spaces
If you have a small bathroom, it can be challenging to create a relaxing and functional space without compromising on style. However, with some creativity and smart solutions, you can transform your tiny bathroom into an oasis. Consider installing space-saving fixtures like a wall-mounted sink or toilet, using vertical storage solutions, and opting for light-colored materials to create an illusion of space. With some thoughtful planning and design, you can maximize every inch of your small bathroom and create a tranquil space that meets your needs.
Upgrade Your Showerhead
Upgrading your showerhead is a simple and affordable way to improve the functionality of your bathroom. A rain showerhead can provide a spa-like experience with a gentle and relaxing stream of water. A handheld showerhead can be great for cleaning and rinsing hard-to-reach areas. Consider choosing a showerhead that is easy to clean and maintain for a hassle-free experience.
Introduce Smart Technology
Smart technology can make your bathroom experience more convenient and enjoyable. Consider incorporating features like smart mirrors, which can provide you with weather updates, news, and even your favourite music while you get ready. You can also install smart lighting that can be controlled with your phone or voice command for a seamless and customizable experience.
Create a Personalized Storage Solution
A personalized storage solution can help you keep your bathroom essentials organized and easily accessible. Consider incorporating custom-built cabinets, shelves, or baskets that can accommodate your specific needs. You can also use decorative storage solutions like wicker baskets, glass jars, and woven bins to add a touch of style and texture to the space.
Final Thoughts
In conclusion, designing a bathroom oasis requires careful consideration of both function and aesthetics. By incorporating additional elements like a soaking tub, vanity table, statement piece, upgraded showerhead, smart technology, and personalized storage solutions, you can transform your bathroom into a spa-like retreat that promotes relaxation and rejuvenation. Don't forget to browse bathroom accessories and bathroom tiles to find the perfect finishing touches for your dream bathroom.