Bathroom Design Features That Will Wow Potential Home Buyers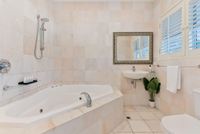 Following Boris Johnson's election victory in December, UK housing prices have been rising at their fastest rates since mid-2018, according to a report by Nationwide. This means that if you've been holding off on selling your home, now is a great time to finally do it. However, with many other home sellers looking to take advantage, you can expect to face stiff competition from both brand new and existing properties. If you want to give your home a competitive advantage, one of the areas you need to focus on when it comes to making improvements is the bathroom. A bathroom remodel can bring a good return on your investment, but only if you add the right design features.
Add more light
If you want to highlight all the design features in your bathroom and make it appear more spacious than it really is, you need to make your bathroom as bright as possible. There are three ways you can achieve this; first, you can add more windows or skylights to let more natural light in. You can also make your bathroom brighter by choosing finishes that are lighter and more reflective, such as white marble tiles. Another way is by installing LED lights in different spots around your bathroom. Since LED lights are programmable, you can find various innovative ways to use them, including backlighting wall mirrors, lighting shelves or counters, or adding colours to water in a tub or sink.
Make it warm
Most people prefer a bathroom that feels warm from the moment you step in, especially in the early mornings when they've just climbed out of a warm bed. There are plenty of ways to make a bathroom feel warmer. One of the most effective ways is by adding radiant floor heating to keep your bathroom floor nice and warm throughout the day. You can also make your bathroom warmer by installing a heater that is specifically designed for damp spaces, or add is a warm-up towel rail to simultaneously heat the bathroom and warm your towels for the ultimate comfort after bathing. When installing all these electric components in your bathroom, it's vital to hire a qualified electrician. There are safety regulations with regards to wiring in bathrooms, and any mistakes can lead to an electric shock, which can be catastrophic in a wet environment.
Make it energy efficient
Amongst the biggest selling points for homes in the modern world are eco-friendly features. Homebuyers are not only looking to reduce their water and energy bills; they're also looking to do what's best for the environment. One way to make your bathroom more energy efficient is by installing a tankless water heater, which can be 24 percent to 34 percent more energy-efficient than a traditional storage-tank water heater. Low flow faucets and toilets can also help reduce water bills, while insulated windows reduce the heating bill.
By making a few smart upgrades in your bathroom, you can make your home a lot more appealing to prospective buyers. While some upgrades may seem costly at first, they are totally worth it, as they can help you find a buyer more quickly as well as improve the market value of your home.