A September unveiling for Millgate's Highview Manor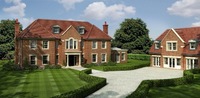 Millgate has just created its most spectacular and prestigious property to date, which it is set to unveil for the first time on 15 September. The location of Highview Manor, the jewel in Millgate's portfolio crown, is at its award-winning development in Boars Hill.
This five-bedroom Georgian-style mansion is set within south-facing grounds in excess of four acres. Highview Manor combines the splendour of a traditional country house with a modern, contemporary elegance.
From the moment prospective clients walk in, the Millgate marque will be clear to see: from the spacious open-plan kitchen and living area, combining space for informal dining and lounging, for which the house-builder is now renowned, to the high-specifications brands featured in every facet of the property.
However, there are a few key features which elevate this home to its premier position. The property is spread over four floors, with the lower-ground level converted into a dedicated leisure complex.
This space is ideal for anyone inspired by the summer of sports we have been treated to. It includes an indoor swimming pool and gymnasium, as well as a sauna and 'leisure zone'. The property also enjoys a private, all-weather tennis court, with its own pavilion. These facilities will no doubt make a perfect place to nurture the next generation of Team GB talent.
Highview Manor also comes complete with a separate cottage. This detached building features an open-plan kitchen and dining room, as well as a living room on the ground floor. Upstairs is a bathroom and two double bedrooms. Essentially, a second property on the grounds, it provides a perfect solution for guests, elderly parents and older children or can even be used as staff quarters.
David Wrigley, Head of Sales at Millgate, comments: "We are very proud to be unveiling Highview Manor to the house-buying public. This property is an exquisite example of quality craftsmanship and we have, again, raised the bar with the inclusion of our leisure suite, tennis court and cottage. I have no doubt that this home will attract the type of purchaser looking to make a serious lifestyle statement and encourage interested parties to make an appointment to attend the launch."
As well as Highview Manor, Millgate's development in Boars Hill also includes Radcliffe House, a Tudor-inspired five-bedroom property, currently on the market for £3.85m.
For more information, visit millgatehomes.co.uk.