Wrap your lips in satin with the world's first powder core lipstick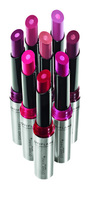 Every girl dreams of having silkysmooth lips and nothing is more luxurious than the look and feel of sheer satin. With Oriflame's newest Power Shine Satin Lipstick, your lips will smoulder in sumptuously, silky colour. Experience the latest beauty must-have - the world's first ever lipstick with a powder core.
Oriflame's Power Shine Lipstick - one of the brand's most loved and trusted products - now comes with added satin shine for dazzling lips that feel like silk. For the first time ever, satin sophistication meets the audacious gloss of Power Shine for a marriage made in lipstick heaven.
The inner Power Shine Core and Outer Powder Core together create a unique finish: the concentrated powder pigment offers intense colour and longer wear, and the unique 3D light reflecting technology delivers stunning shine. The result being an intense, lustrous colour that lasts for up to four hours.*
Power Shine Satin Lipstick combines concentrated, pigment powders with reflecting Metashine pearls to create a unique sophisticated, outrageous shine. The cushioning texture allows the lipstick to glide on effortlessly for a stunning appearance. Its conditioning ingredients leave lips feeling beautifully moisturised and with eight show-stopping shades to choose from - make every occasion an excuse to glam up!
With an added indulgence of a soft, creamy texture, Power Shine Satin Lipstick will make your lips look and feel like they're wrapped in satin.
Oriflame's Power
Shine Satin Lipstick will retail at £8.45 and is available for purchase in the UK from 8 September onwards via oriflamestore.co.uk or through Oriflame's nationwide network of consultants. To find your nearest consultant, visit oriflame.co.uk.
*Research carried out on 135 women over four weeks