Murcia's Paramount Park buoyed by casino deals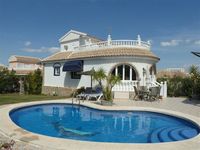 Madrid and Barcelona have both announced plans for mega Vegas-style gambling resorts on the outskirts of their cities. Spanish tourism figures are up and investors are clearly cashing in, much to the delight of Murcia's Paramount Theme Park team.
Chris Mercer, Director of real estate agent Mercers with its HQ just ten minutes from the Paramount site, comments, "Spain is having a dark hour when it comes to its banks and indebted regions but one sector that keeps growing is tourism. The Spanish Ministry of Industry says 33 million foreign tourists visited Spain in the first seven months of 2012, 3.3% higher than the same period in 2011. July welcomed a record-breaking 7.7 million foreigners, up 4.4% year-on-year. These new themed attractions for Madrid, Barcelona and Murcia are vital in ensuring that Spain retains this immense global appeal – not to mention generating thousands upon thousands of much-needed jobs in construction and service industries."
After much deliberation, Las Vegas billionaire Sheldon Adelson opted for Madrid as the location for his 36,000 hotel room "EuroVegas" gambling resort. Set in farmland around the country's capital, half a dozen casinos and 12 vast hotels will be constructed over the next ten years creating Europe's largest gaming hotspot. The project has the full support of the Madrid Government.
Refusing to be left in the shade after the disappointment of losing EuroVegas to Madrid, Barcelona has confirmed it will be building a rival 4.8 billion euro hotel, shopping and casino complex – "Barcelona World". Run in conjunction with La Caixa Bank and 20% financed by Spanish real estate company Veremonte, Barcelona World will be built near Port Aventura theme park in Tarragona and be ready in 2016. Catalonia is already Spain's most visited region taking 25.6% of Spain's total foreign tourists for the first seven months of 2012.
Meanwhile in Murcia, the location for the Paramount Theme Park scheduled to open in 2015, the Regional Minister for Culture and Tourism, Pedro Alberto Cruz, has said that he views Madrid and Barcelona's plans as very positive as it confirms that theme parks are once again becoming fashionable. Not only that, but "they have become the cornerstone of regional tourism for tourism-orientated areas of Spain". He added that the proposed schemes were "absolutely complementary" to each other and would generate wealth and economic productivity.
Cruz has just returned from America where he presented to potential Paramount Theme Park investors, a trip he made with Jesus Samper, the President for Murcia's Flagship Projects. He said the visit was "very positive" and that the project had been very well received. Cruz reiterated that, whilst financing has not yet been confirmed, everything is going on course, in the right direction and at the right speed.
At the same press conference, Cruz reassured the media that Corvera International Airport would be open towards the end of the year. He was certain that by Semana Santa next year, Easter Week, the Airport would be in a fully operational state to start its summer flight programme. On-site, workers are currently cleaning, tidying and in the process of removing surplus materials ready to welcome aircraft and passengers.
On the Market in Murcia:
Ref NEC87 – Emeralda Villa, Camposol Golf, Mazarron
This two bedroom two bathroom Emeralda-style villa has a large built area of 139m² and is set on a private 600m² plot complete with 8m x 4m swimming pool and summer kitchen / barbecue with remotely controlled mood lighting. Unique to Camposol, this villa was intended to be a three bedroom floorplan but the current owners opted for space and reduced it to two larger bedrooms, one with a large terrace accessed via French doors – it would be possible to re-convert back to three bedrooms with relative ease. Extras include satellite TV, air-conditioning, a wood burner in the lounge, a newly fitted kitchen with granite worktops, internet connection, alarm system and irrigation for the garden. Camposol Golf has an 18-hole golf course, four star Spa hotel and plenty of shops, restaurants and bars on site. The blue flag beaches and marina of Mazarron are within a 15 minute drive.
The price has recently been reduced by 20,000 euros to 179,995 euros (approx 145,000 GBP)
For more information, visit spanishproperty.co.uk.