UK now second largest overseas investor in Brazil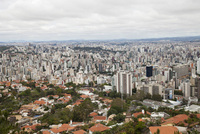 Until recently, the primary connection between the UK and Brazil appeared to be a shared love of the beautiful game with legends Juninho, Emerson and Ramires gracing Premiership pitches but now focus is shifting from football to investment as the UK is named as the second largest overseas investor in Brazil according to Ernst & Young's first annual Brazilian Attractiveness Survey.
Not only leading the attractiveness score within Latin America, Brazil is the second most popular global destination in terms of foreign direct investment (FDI) with the number of projects increasing by 39% in 2011 to a record 507, creating some 161,000 jobs.
As Jim Turley, Chairman and CEO of Ernst & Young, comments, "Brazil has transformed itself from a country with bleak economic prospects in the 1970s, to a formidable force in the global economy. Part of that success story has been Brazil's ability to position itself as an increasingly attractive place to do business."
And its not just this economic strength and ease of doing business that the UK is keen to share in as ex-Prime Minister Tony Blair reiterated on his visit to the country last month. Investing some £7.6 billion in 45 projects, the UK is now the second largest overseas investor in Brazil, second only to the USA. Between 2010 and 2011 the number of UK FDI projects doubled, creating more than 21,000 jobs for the Brazilian economy. Indeed several iconic British companies including Rolls Royce, BP and Royal Dutch Shell have been present in the BRIC nation for many years.
In terms of sectors targeted for FDI, real estate, hospitality and construction remained prominent attracting 12 projects and creating over 4,000 jobs in 2011. Indeed according to the Ernst & Young survey 27.7% of respondents believed that the real estate and tourism sectors had not reached their full potential and were expected to witness "robust growth" in the near future.
As Dean Thomas, MD of DLT International, owners and developers of the unrivalled land investment opportunity, Palm Springs Natal, explains, "The Brazilian real estate sector remains in its infancy with vast scope for growth. With rumours that Greece may require a third bailout, on-going uncertainly in the Eurozone and the US still suffering an economic hangover, UK investors are looking further afield for opportunities and they are turning to Brazil and increasingly Brazilian real estate. As a survey by the Association of Foreign Investors in Real Estate (AIFRE) reveals, Brazil will become the second largest real estate investment market in the world in 2012."
Indeed the signs are there to suggest that this might just be the case with the Knight Frank Global House Price Index Q2 2012 recording the strongest annual growth at 18.4% in Brazil and the Global Property Guide naming Sao Paulo as the "world's strongest housing market" with house prices surging by 15.56% during the year to Q2 2012.
As Dean Thomas comments, "There are numerous positive indicators that point to the success of Brazilian real estate compared to other global markets. The rise of 30 million people to the middle classes with a desire to own their own homes, increase in availability of mortgage finance combined with low levels of housing stock makes for a very appealing investment opportunity especially in rapidly growing regions such as the north east, home to 55 million Brazilians and 93 new FDI projects between 2007 and 2011 according to Ernst & Young.
"As former U.S President Bill Clinton said on a visit last month to Sao Paulo, "If I were just sitting in a room betting on the future of rising countries, I'd bet on Brazil first," and I'd have to agree with him"
For those interested in investing in Brazilian real estate why not consider Palm Springs Natal in the lucrative north east? Comprising 453 plots, a wide range of leisure facilities and amenities set over 100 acres of prime beachfront land, Palm Springs Natal is unlike many other land developments in the area.
Essential infrastructure is well underway with completion due early 2013; land plots are available from £40,000 and SIPP approved investments from £10,000. 2 and 3 bedroom luxury villas, ideal for the local market, can also be purchased from a very affordable £152,500.
For more information, visit dlt.co.uk.