Middle class Brazilians provide holiday programme investment opportunity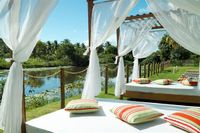 According to a report out last week, 35 million Brazilians climbed out of poverty in the last decade and now 53% of the 194 million-strong population is middle class. With new spending power comes the desire for luxury holidays and a Natal-based developer has the solution.
Samantha Gore, Sales Manager for Brazil-based agents uv10.com, comments, "This official report is very encouraging and proves that the various economic and social policies implemented by President Rousseff and her predecessor Lula da Silva have been a runaway success. Brazil has created around 18 million jobs in the last decade and consumer spending is growing apace. Aside from cars, computers and smart phones, all massive growth sectors, middle and upper class Brazilians are now eyeing luxury holiday experiences and we're marketing the ideal hands-free investment for foreigners to cash in on this."
Intelligent Property Funding (IPF) is a relatively straightforward concept that delivers a high return at zero risk. Investors purchase a legally registered fraction of a completed holiday home in a luxurious five-star facilities-led resort near Natal, northeast Brazil, and take advantage of fixed annual returns of 16% alongside a guaranteed buy-back at the end of term – between four and ten years.
Samantha continues, "In today's climate real estate investment can come with inherent risks with regards to exit strategy and rental returns. With IPF that risk is eliminated and clients need only find 34,000 Reais or 10,300 Pounds to participate. Stay invested for six years and your money is doubled and capital returned. The developer has already sold more than 500 holiday packages to aspirational middle class families proving that the demand is there and this fractional investment model works."
To take part in IPF clients must buy at least one quota for 34,000 Reais, a quota being a 12th of the property, which is then registered at the notary in their name. For their commitment investors receive an annual fixed yield of 6.5% as well as a final pay out of capital invested plus a capital gain of 9.5% per year invested – together this adds up to a cash annual return of 16%. Property management costs are borne by the tourism company, International Residence Club.
The beach and riverside village, set in Pium, just a ten minute coastal drive to Natal's famous Ponta Negra Beach, is made up exclusively of three bedroom villas alongside extensive well thought-out facilities. Shared amongst the 48 homes are tennis and volleyball courts, a football pitch, two swimming pools, a kayaking and fishing area, gymnasium and a Japanese Zen-style Spa. The community is gated with 24 hour patrolled security alongside a concierge and butler service for guests. Wi-fi and a SKY TV package are also on hand. Arranged over 100m², the semi-detached villas are light and airy with vaulted hardwood ceilings, three bedrooms, two bathrooms and private garden areas alongside off-street parking. The resort is fully operational and welcomed its first guests in July of this year.
For more information, visit uv10.com.