Get behind the wheel and feel the freedom in Africa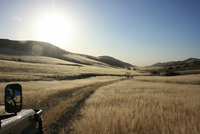 There is a self-drive experience for everyone in Sub-Saharan Africa. The feeling of freedom, space and independence is almost unrivalled and self-driving certainly does not mean that you have to 'rough it', in fact, surely the ultimate luxury is travelling Africa your way, taking a trip entirely your own. From easy to navigate Namibia to tough as nails Tanzania there is a self-drive adventure awaiting every kind of traveller.
First-Timers & Younger Families
Namibia has to be one of the most pleasant places in Africa to drive! Easy to navigate, fantastic gravel roads, excellent signage and super friendly people. With fuel stops a plenty and heart-achingly dramatic scenery Namibia proves to be the perfect host to the first time self-driver. For families with younger children there are plenty of accommodation options that don't need to break the bank and a plethora of wonderful family friendly activities too. Explore Swakopmund, Damaraland, Etosha National Park and the Waterberg Mountains under your own steam.
For those wishing to combine the bush with the beach and an easy, friendly, hassle free self-drive experience then Malawi has to hit the spot. With fantastically maintained tar roads, short driving distances, dramatically different environments and affordable accommodation options, Southern Malawi is another firm favourite for those with less experience or travelling en famille. Travel through Majete Wildlife Reserve, the Thyolo Tea Estates, Zomba Plateau, Liwonde National Park and Lake Malawi.
A 14 night self drive in Namibia with a mix of camping & lodges is from £2,630 per person.
A 14 night self-drive in Malawi mostly in lodges is from £2,650 per person.
For The Experienced Africa-Savvy Self-Driver
Those with a little experience of driving in Africa or elsewhere in the third-world and looking for a true adventure, well off the beaten track would be better suited to a more exploratory trip – something a little wilder. Botswana and Zambia both offer opportunities to explore incredible wilderness areas from Chobe, Savuti and Moremi in Botswana to the Southern Kafue National Park in Zambia. Either of these trips is perfect for those looking for a little more of a challenge, where 4x4 technique and navigation skills are needed, not to mention some nifty guiding skills too. Experience the thrill of find your own wildlife away from anyone else.
A 10 night self-drive in Zambia with a mix of camping & lodges is from £2,970 per person.
A 10 night self-drive in Botswana mostly camping is from £2,870 per person.
For the hard-core explorer
Travelling through Tanzania's Northern Parks under your own steam is at once an exhilarating and unforgettable experience. Driving yourself down into the Ngorongoro Crater or through the plains of the Serengeti gives one a true 'Out of Africa' feel – a pioneering feel, an explorers feel. Self-drive in Tanzania is not for the faint-hearted, the roads are tough, the campsites without facilities and there is game everywhere. But being in the midst of the migration, not another vehicle in sight, having a truly wild wildlife experience is utterly unforgettable.
A 12 night self-drive in Tanzania with a mix of camping & lodges is from £3,120 per person.
*All trips are based on two people sharing throughout and include return economy flights from London Heathrow.
For more information, visit tripafricatravel.com.
Prices correct at time of publication.