Property prices continue to rise on Brazil's "Island of Magic"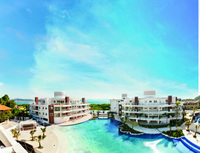 Pristine and affluent, the southern Brazilian island city of Florianópolis (Floripa) has seen some steep house price rises in recent years. Yet, whilst many global property markets are faltering, values here continue to climb. Estate agent uv10.com is not surprised.
Samantha Gore, Sales Manager for Brazil-based uv10.com, explains, "Properties in Floripa can see yearly price gains of around ten percent and, whilst the volume of sales has slowed a little since the onset of global economic crisis, those prices keep rising. Two strong factors underpin this resilience. The first is that most of Floripa is set on an island which cannot be expanded, so property is a finite resource, a rare commodity. The second is that most of the island's luxury homes were bought outright without mortgages, before finance was even available, and vendors have always been able to sit tight until they achieved their full asking price."
450 miles southwest of Rio de Janeiro, Floripa is a safe, modern, clean city with a fast-growing population now numbering almost half a million. A favourite with affluent Brazilians and those foreign tourists who are in the know, Floripa boasts some of the most expensive properties in the whole of Brazil. Said to have a landscape like Hawaii and tranquil St-Tropez-Ibiza vibe, there are enough lounges, beach bars and nightclubs spread along the island's 33-mile length to create a year-round party atmosphere. Meanwhile many of its 42 white sand beaches provide hotspots for year-round surfing and kite-surfing.
uv10.com is promoting Marine Home & Resort, a frontline beach complex set in the north of the Island in and up-and-coming area just 7km from world-famous party zone Jurere International. With an incredible 2,400m² of swimming pools, the apartments and penthouses range between 131 and 488m² in usable area and have access to an enormous range of on-site facilities such as tennis courts, a pool bar and lounge, games room, cinema, sauna, Spa, gymnasium, children's indoor playground and party area plus outdoor children's pools and play areas, a mini beach, wet deck and footbridge access to the main beach which is very calm with warm waters – ideal for families. There is also an area that can be used for holding parties and events.
Despite the architects, Renee Goncalves and Robson Nascimento, being the very same who built many mansions in Jurere, prices at Marine Home & Resort compare favourably. The average square metre price at Jurere is 10,750 Reais / m² whilst, on the other side at Praia Brava, the average price is 7,500 Reais / m². For Marine Home & Resort (in Cachoeira de Bom Jesus) prices drop to 6,800 Reais / m² on average – 10% cheaper than Brava and 37% cheaper than Jurere.
Only a few properties remain and prices start from 940,400 Reais (approx 288,000 GBP) for a two bedroom two bathroom apartment. From December to February in particular, rental potential is high – up to 1,250 Reais per day (384 GBP) for a four bedroom home.
For more information, visit uv10.com.