New Swiss Alps Ski Train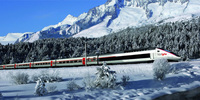 All aboard the train! Do breakfast in London and the Swiss Alps for après ski. This winter, there is a new and easy way to get to the most beautiful bit of the Alps. It's on the NEW Swiss Alps Ski Train.
Take the train, it's so civilized. Every Saturday from December 22 through April 6, 2013, skiers will hop aboard the Eurostar in London as the clock strikes 7am, change in Lille for the TGV, and zoom straight down to Switzerland - in less than eight hours.
Operated by Eurostar to Lille and by TGV-Lyria for the onward service to Switzerland, travellers book the whole journey in one easy step with Switzerland Travel Centre (STC), as well as other companies.
There will be 107 1st class seats and 250 seats in 2nd class. Included in the price of a first class ticket will be a menu or a cold snack served at the seat. For all travellers, there will be a bar in the middle of the train. At the entrance of each car, dedicated space will be reserved for baggage and ski equipment.
Fares vary according to demand and availability. Reserve seats for the Swiss Alps Ski Train in advance for the best fares.
Lead-in fares start at £189 return Standard class and £299 Standard Premier class from London St Pancras to Brig, via Lille.
Reservations can be booked online at:
eurostar.com/UK/uk/leisure/destinations/swiss_alps.jsp
Outbound
Destination Arrival Departure
St Pancras 06.57
Ashford 07:25 07:28
Lille Europe 09:26 10:02
Aigle 15:47 15:55
Martigny 16:13 16:16
Sierre 16:39 16:41
Visp 16:57 17:00
Brig 17:08
Return
Destination Arrival Departure
Brig 12:51
Visp 12:59 13:02
Martigny 13:38 13:41
Aigle 13:58 14:01
Lille 18:55 20:30
Ashford 20:35 20:38
St Pancras 21:06