Property developers in Northeast Brazil struggle to meet demand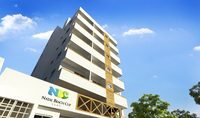 Historically the poorest region of Brazil, the northeast is now on the move and posted the highest GDP growth figures in the country from 2000 to 2010 – 4.2% versus 3.6% for the nation as a whole. A strong middle class is emerging and a residential property boom is the result – investor's paradise.
Samantha Gore, Sales Manager for Brazil-based uv10.com, explains, "Natal, a major city in the northeast region, is now one of Brazil's fastest growing municipalities and property developers are busy keeping up with demand – demand that is coming from all directions. Wealthy Natal locals are snapping up homes for holiday rentals, seniors from cooler southern states are keen to spend their retirement in the sunshine and the growing, increasingly well-paid, workforce is keen to get a foot on the property ladder. Add international investors ahead of the 2014 World Cup - Natal is a host city - and you have just some of the reasons why this is such a buoyant property market."
For those who prefer beach life to city life, the resort of Ponta Negra, a swift 15 minute drive south of Natal's busy centre, is an attractive prospect. Probably the most famous beach in Natal – so much so that they call it the "Postcard of Natal" - this 3km stretch of white sand, stunning dunes, hotels, restaurants, beach bars and surfers has an infectious energy that's hard to resist. uv10 has a prime investment opportunity at the heart of the action.
Samantha continues, "We're promoting Natal Beach Cup, a development of 23 one and two bedroom holiday apartments in Ponta Negra. The developer is so confident of the project's earning potential that, upon completion in June 2014, he is guaranteeing a four-year 6% rental return or full rental management for those choosing to operate outside of the guarantee. For clients wishing to resell to the local market, the developer offers assistance in this area too, making your exit strategy that much more assured. Fully licensed and priced at 15% below the nearest comparable development, a one bedroom can be picked up from 110,059 Reais, that's just 33,477 pounds, a superb entry level investment."
Located on the famous "Route of the Sun" Boulevard, an easy ten minute walk onto the beach and just seconds from local amenities, Natal Beach Cup is a boutique holiday apartment development complete with 24 hour security, private off-road parking and stylish reception and leisure areas. From floor two and above, there are even views of the Atlantic.
As above, prices start from 110,059 Reais (approx 33,477 pounds) with staged payments available right up to the June 2014 completion. As Natal Beach Cup is at pre-launch, uv10 is able to pass on a 2.5% discount to early investors who reserve before 15 November 2012.

For more information, visit uv10.com.