Pretty Puglia - Italy's hidden gem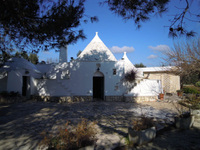 Puglia, one of Italy's hidden gems is located on the heel of Italy's boot, and is bordered by 2 seas the Adriatic and Ionian. The area can be easily reached by plane to either Bari or Brindisi with both low cost and traditional airlines flying there and the ports of Bari, Brindisi and Taranto also provide excellent access from the sea.
Linda Travella, who has been selling property in Italy for 25 years, said 'Puglia has grown in popularity as a region over the last 6 years and some well known TV personalities has recently bought there, including Amanda Lamb of A Place in the Sun fame.
The Southern part of Puglia closer to Brindisi is the more popular, and with its closeness to the airport, pretty towns and stunning beaches it is an ideal place to own a home.
Puglia is famous for its "Trulli" with the biggest concentration being around Alberobello and Martinafranca.
Trulli are conical, circular houses built without mortar and are thought to have been a tax dodge in the past.
When the tax inspector came round the houses were dismantled and when he went away rebuilt! Unfortunately this idea would not work now!!
Ostuni is a very pretty town set on 3 hills and about 40kms from Brindisi , you may be surprised at the architecture in Ostuni and in general in Puglia which resembles more the Arab than the traditional Italian that you may expect. The area has been invaded by various different nations over the years, the Greeks and Normans to name but a few. All have left their mark and the mix in style makes for an interesting and attractive landscape. The weather of course is another reason to buy a property in Puglia. The climate is extremely temperate, and with the temperature not dropping below 20C until about the beginning of December you are able to utilise your home for the whole year.
Prices of properties for sale in Puglia are very good indeed, with a Trullo to restore starting as low as €40.000. For €180.000 you can buy a 3 bedroom Trullo, just 15 minutes from the sea and 30 minutes from Brindisi airport ( see photo above) The property is centrally heated, ready to move in to and has 4 acres of land complete with fruit trees, an olive grove and space to build a pool if you desire.
If you are looking for something grand then a splendid 18th century Italian villa with 5 bedrooms and 8 bathrooms can be found just 20 minutes from Lecce and the Acaya Golf and Country Club. The villa, which is walled and gated, has a swimming pool, full security system, and is set in 2 acres. This stunning property is on sale for €1.500.000.
Linda's view is that Puglia offers great value for money both for personal use and as investment potential offering a choice of Italian properties at affordable prices. The properties in this part of Italy are all within easy reach of either or both the Adriatic and Ionian seas, something which is hard to find in others parts of Italy.
Linda Travella is known as the Italian property expert and has been selling property in Italy since 1987. She was the first woman chairman of FOPDAC, is media spokeswoman for NAEA International, and was recently made an Honoured Fellow of the National Association of Estate Agents for services to the industry over many years.
She has appeared on ITV A Place in the Sun with Amanda Lamb, Selling Houses Abroad with Andrew Winter and BBC Breakfast News.
For more information, visit casatravella.com.